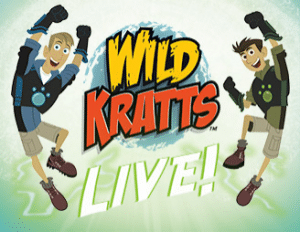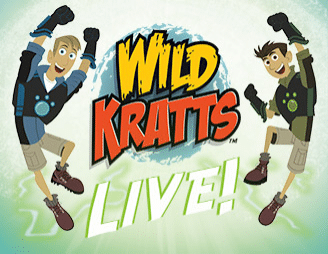 WILD KRATTS LIVE! is an all new theatrical stage show based on the hit animated television series Wild Kratts.  Martin and Chris Kratt, stars of the Emmy-nominated Wild Kratts step out LIVE ON STAGE to engage the audience in a classic Wild Kratts story.
The live action begins with them pulling on their Creature Power vests and gloves begin activating Creature Powers!  The duo shows off the amazing abilities of animals such as Rhino Powers and Caracal Powers with live comical demonstrations.
Suddenly, the Wild Kratts receive a message from their friends Koki, Jimmy and Aviva that Zach and his Zachbots are invading the Tortuga HQ. This villain steals one of the Wild Kratts favorite inventions. The brothers have got to get it back. Now with their amazing animal abilities they are off to confront the bumbling and comical villain, Zach, and his robots. Of course, the Kratt Brothers technology doesn't always work as planned which results in hilarious pratfalls and slapstick fun. But the brothers press on and ultimately rescue their favorite invention from Zach's clutches so the animals of the creature world are safe once again.
Experience, live on stage, the astounding "creature" fundamentals, and the infectious excitement and inspiring quest of the Kratt Brothers that make the hit television series Wild Krattsso popular with kids and their families.
Tickets are on-sale nowand can be purchased via ticketmaster.com, http://www.beacontheatre.com/wildkratts, 800.745.3000 or the MSG box office. Tickets start at $39.75 plus applicable service charges.