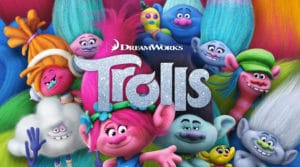 I know… a CRAFT you say… really?! Adam, in all our time together you've rarely crafted… Well When the folks at Fox Home Insider offered to help kick start my post with some ideas on how to facilitate this "craft"… I said I went to college as an ART major – I got this…
I rolled up my craft shelves and got to work on how I would make a CRAFT based Troll. It involved taking one toilet paper roll and using that as the body.  Then using colored paper (cutting it into small 4 inch long strips) or using colored yarn (cut into 4 inch long pieces) and using glue or tape to affix the chosen hair to the tp roll.  Drawing a face on the roll then using some construction paper to make an outfit and use straws for the hands and legs.
I gave the same instructions and materials to my son… and WHAM he said – while the Trolls are cool and they're cute and colorful – I went in a different direction…. I said hmmm ok… what direction would that be… he said with a glee I created a BERGEN.  If you havent seen the new movie – the background is Trolls are being eaten by the Bergens (they look like ogres) so they're kind of like the bad guys in a way… without missing a beat he said arent you proud you always told me to think outside the box.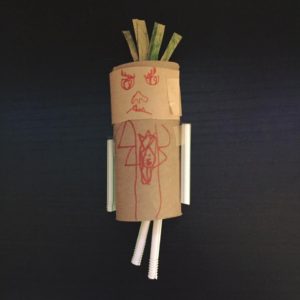 Well I'm proud, he did think outside the box and now presenting — How to craft a Bergen.
Required Toilet paper roll, straws, color pencils/markers, paper (color or white will work), and finally tape or glue.
Take the piece of paper and draw an outfit or jacket.
Color the outfit in.
Cut the outfit out of the paper.
Take the toilet paper roll and tape/glue the outfit to the roll (leaving 1 inch at the top).
Draw a face on the Toilet paper roll above the outfit.
Take the straw cut into pieces and tape/glue to the base/sides of the tp roll.
Take some more paper and cut into strips take to the top as hair and there you go.
As a child of the 80's and 90's we owned a ton of TROLLS.  My sister was a big collector – I got the color boy colored ones from time to time.  When I heard this movie was coming out – I needed to check it out. Plus the voice cast is amazing, featuring the talents of Golden Globe® nominee Anna Kendrick (Pitch Perfect, The Accountant), Grammy and Emmy® Award winner and Golden Globe® Award nominee Justin Timberlake (Friends with Benefits, Shrek the Third), Golden Globe® and Emmy® Award nominee Zooey Deschanel ("New Girl"), Christopher Mintz-Plasse (Superbad, How to Train Your Dragon), Golden Globe® and Emmy® Award winner Christine Baranski ("The Good Wife," How the Grinch Stole Christmas), Russell Brand (Get Him to the Greek, Forgetting Sarah Marshall), Grammy Award nominee Gwen Stefani ("The Voice"), Golden Globe® and Emmy® Award nominee John Cleese (Shrek 2, Shrek the Third, Shrek Forever After), Emmy® Award winner James Corden ("The Late Late Show with James Corden", Into the Woods), Golden Globe® and Emmy® Award winner Jeffrey Tambor (Transparent, "Arrested Development") and Ron Funches ("Undateable," Get Hard).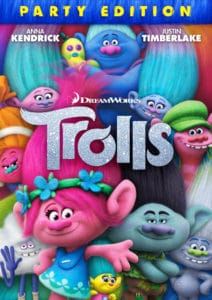 TROLLS PARTY EDITION is out now on Blu-ray and Digital HD. Exclusive to TROLLS BLU-RAY PARTY EDITION – take your Trolls Party to the next level with four interactive Party Mode features where you can use your remote to engage with the onscreen fun. Shower the screen with glitter during party scenes, drop cupcakes when things get scary, high-five Cloud Guy, join Mr. Dinkles for "OH SNAP" moments and much more!
DreamWorks TROLLS—a musical adventure filled with heart, hilarity and pure happy! When their village is invaded by the grumpy Bergens, two mismatched friends must work together in perfect harmony to save the day.