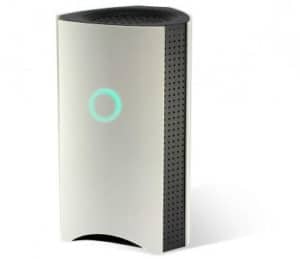 It's that great time of year again when CES show us what we'll be drooling over in the months ahead… last year I talked about the previous iteration of the Bitdefender Box, which blocks connections to malicious URLs and scans local devices for vulnerabilities.  To me it was a safety net that I needed to have with all the smart devices (cameras, TVs, speakers, etc) but this newer version of the Bitdefender Box 2.0 takes it to another level with deep level packet inspection on network traffic, detect network intrusions and let the administrator to block any new device connecting to the network.
You might be saying – I already have a router – sure but here's the thing that Smart TV and Fridge you just got arent running anything to protect themselves on the internet waiting for some 12 year old hacker to writer a script and make those items paperweights or worst part of a bot network attacking institutions. Because of poor security that leaves millions of home networks vulnerable to attack, its a pretty solid investment to make in the near future.
2017 will be a huge year for the IoT (internet of things) there will be more then ever connected smart devices that are really smart devices running different operating systems.  I'm betting you're thinking what whos got one of those… but I'm sure you know a friend with an alexa or an echo the smart devices from Amazon, or an chromecast.  Those are all smart devices that could one day be hackable (I really hope not since I have both them but I still feel a lot safer thanks to having Box).
This year we got a peak at the second-generation Bitdefender BOX. It is now running on a 1.2 GHz, dual-core ARM Cortex A9 SoC, backed with 1GB of RAM. According to Bitdefender, the next generation of its hardware security solution can not only secure your smart home devices, but also your home network. By using machine learning to figure out your average internet traffic habits, the Box 2 will reportedly be able to spot any malicious traffic and put a stop to it. Pre-orders for the Box 2 will open up this summer, and shipments are expected to start by the middle of 2017 in the U.S.