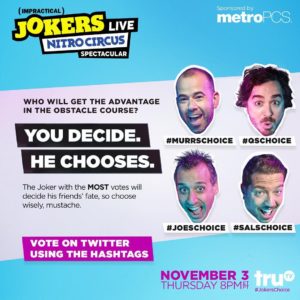 Nitro Circus, the world's leading youth action sports and entertainment brand, are coming together to produce a two-hour special live event, Impractical Jokers Live: Nitro Circus Spectacular, an ultimate celebration to cap off the fifth season of the popular truTV series. Hosted by extreme sports superstar Travis Pastrana and powered by the unmatched showmanship of Nitro Circus, the season finale will feature Joe, Murr, Q and Sal, collectively known as The Tenderloins, tackling their biggest challenges yet, including two high-stakes live punishments and a four-part obstacle course.
VOTE NOW on Twitter using #SalsChoice, #JoesChoice, #QsChoice or #MurrsChoice.
Set to air Thursday, November 3, at 8pm, the Impractical Jokers Live: Nitro Circus Spectacular will be broadcast live from Prudential Center in Newark, NJ and will reveal which Joker can best overcome their nerves to claim victory for ultimate bragging rights – and their favorite charity. The Jokers have a great history with Prudential Center, having visited The Rock to film punishments with the New Jersey Devils and Top Rank Boxing.
Check out our DADAROCKS facebook page as we're giving away a $50 gift card!
Please be sure to check out Impractical Jokers on Facebook, Twitter, and Instagram