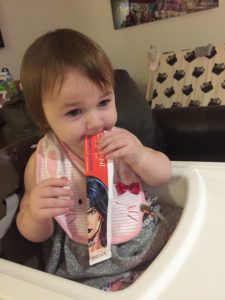 Having an 8 year old getting up early in the morning to head off for 3rd grade, followed by my two late morning risers of my 3 & 1 year olds means we're serving breakfast at 3 different times… which is amazingly easily if I'm dishing out a protein packed Chobani Kids Greek Yogurt pouch. Pull from fridge, pop the top and serve. Thankfully Chobani is a great breakfast snack since it's 25% less sugar* than other kids yogurts.
Lunchtime and snack times aren't any easier because my 3 & 1 year old girls start having their schedules separate. My 1 year old Harlow needs that noon time nap, while my 3 year old Harper is ready to play, do arts and crafts or just dance… again she'll need to eat and snack. She's a picky eater liking the sweeter things in life, so we dice up some berries and fruit add a tube of strawberry Chobani Kids Greek Yogurt and she's ready to rock till late afternoon snack or maybe even dinner time.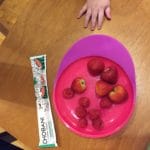 One thing we love doing in my house is squeezing the tube of Chobani into giant drops on wax paper and freezing them. After a couple of hours in the freezer you have this amazing frozen drops to snack on that the kids will love and with no artificial flavors, sweeteners, or preservatives you will love them too.
When my son gets ready for bed he's always craving that before bed nighttime snack and he does love something cold. We have been taking the entire tube of Chobani Kids Greek Yogurt and freezing it for him, he loves that it's a frozen yogurt stick made with only natural ingredients.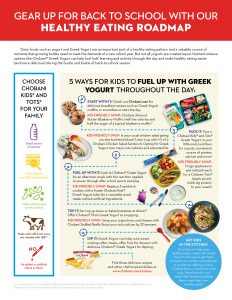 * Chobani Kids® Pouches, 10g Of sugar per 3.5oz (99g) serving; leading kids' yogurt, 14g Sugar per 3.5oz (99g) serving. Chobani Kids® Tubes, 6g of sugar per tube; leading kids' yogurt, 9g Sugar per tube.