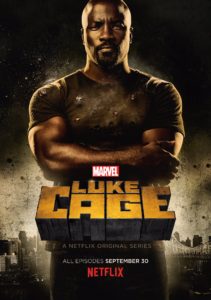 First there was Daredevil, then came Jessica Jones, Netflix is back today with Luke Cage, a new series devoted to the character that was first introduced in Jessica Jones.  This is the hero you've been waiting to see, you've seen how Netflix handles great hand to hand fight scenes but we really haven't seen powers.
Luke Cage in my thought is even better then the prior Marvel shows on Netflix, Why? Cause here is a guy with real powers coming to learn how to use them and why to use them a true origin story of a hero.
Mike Colter's presence as Luke Cage is perfection. Rosario Dawson makes an appearance as Claire, a cross over character between the Marvel shows.
Like other Marvel shows there is a dark edge but with moments of humors (which is the signature of Marvel entertainment).  The fight scenes are still amazing and you'll be binge watching this series for sure!