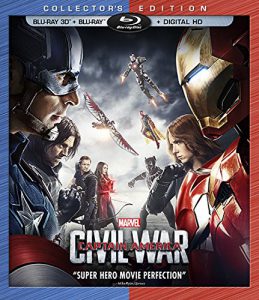 BRING HOME THE YEAR'S BIGGEST BLOCKBUSTER MARVEL'S CAPTAIN AMERICA: CIVIL WAR
The most explosive clash to ever rock the Marvel Cinematic Universe ignites a firestorm of conflict in the game-changing epic, Captain America: Civil War.  In the wake of collateral damage, government pressure to rein in the Avengers drives a deep wedge between Captain America (Chris Evans) and Iron Man (Robert Downey Jr.), causing a catastrophic rift that escalates into an all-out feud.  Against a backdrop of divided loyalties, their fellow Avengers must deal with the fallout. Pick a side in this spectacular adventure, packed with mind-blowing action, suspense and exclusive bonus content!
When Marvel's "Captain America: Civil War" arrives early on Digital HD, Digital 3D and Disney Movies Anywhere on Sept. 2 and on Blu-ray 3D, Blu-ray, DVD and On-Demand on Sept. 13, viewers can join the nonstop action and pick their side—Team Cap, commanded by Steve Rogers (Chris Evans), or Team Iron Man, led by Tony Stark (Robert Downey Jr.).
Rogers and Stark are joined by a star-studded lineup of beloved Marvel Super Heroes, including Natasha Romanoff aka Black Widow (Scarlett Johansson), Bucky Barnes aka Winter Soldier (Sebastian Stan), Sam Wilson aka Falcon (Anthony Mackie) Colonel James "Rhodey" Rhodes aka War Machine (Don Cheadle), Clint Barton aka Hawkeye (Jeremy Renner), Vision (Paul Bettany) and Wanda Maximoff aka Scarlet Witch (Elizabeth Olsen), along with new recruit Scott Lang aka Ant-Man (Paul Rudd) and joined by two new additions to the MCU: T'Challa aka Black Panther (Chadwick Boseman) and Peter Parker aka Spider-Man (Tom Holland).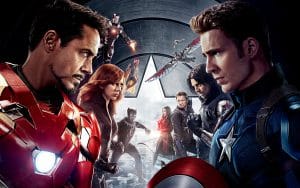 More than 60-minutes of thrilling, exclusive bonus material includes: an inside look at the evolution of lead characters Steve Rogers and Tony Stark, a behind-the-scenes exclusive on the making of Marvel's "Captain America: Civil War," never-before-seen deleted scenes and hilarious outtakes. Plus, home audiences can learn more about the latest additions to the MCU and get an exclusive, first look at Marvel's "Doctor Strange," starring Benedict Cumberbatch, coming to theaters Nov. 4, 2016.