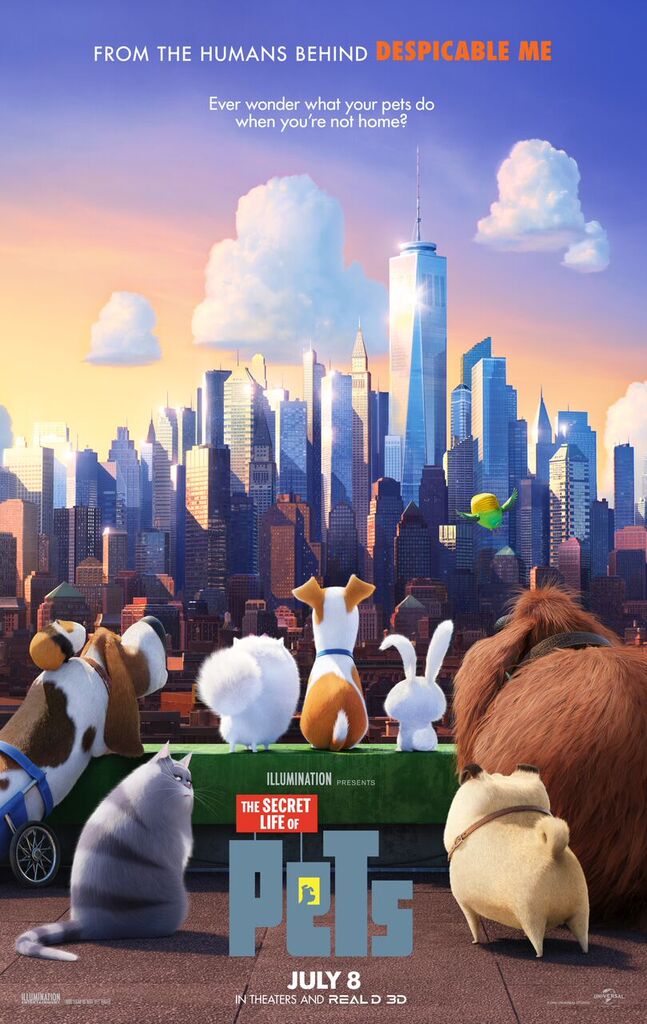 I seriously haven't laughed this much in a movie in a while, especially a kids movie. The Secret Life of Pets, a comedy about the lives our pets lead after we leave for work or school each day. It was seriously FUNNY! Take the kids and have a good laugh!
Presented Universal Pictures is the fifth fully-animated feature-film collaboration with Illumination Entertainment (they also did the Minions movies).
Comedy superstars Louis C.K., Eric Stonestreet and Kevin Hart make their animated feature-film debuts in The Secret Life of Pets, which co-stars Jenny Slate, Ellie Kemper, Lake Bell, Dana Carvey, Hannibal Buress, Bobby Moynihan, Steve Coogan and Albert Brooks.  Illumination founder and CEO Chris Meledandri and his longtime collaborator Janet Healy produce the film directed by Chris Renaud (Despicable Me, Despicable Me 2), co-directed by Yarrow Cheney and written by Cinco Paul & Ken Daurio and Brian Lynch.
During the press junket for The Secret Life of Pets, I joined in group interviews with the cast of the movie including Eric Stonestreet, Lake Bell and Kevin Hart.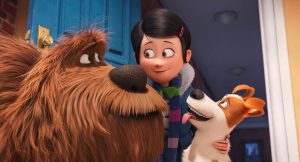 Eric Stonestreet spoke about finding the connection. He also talked about his love for animals, and growing up with pigs, cows, and dogs in Kansas. Stonestreet said there's a Duke in everyone, including himself.
"I think when you meet him at the beginning of the movie you think one thing about him, that he's kind of a bully and kind of a tough guy, mildly a tough guy because he is protecting something. We don't know what that is," he said.
Kevin Hart joked about how he got into character  "I went and spent a lot of time with some bunnies. I only ate lettuce for like seven months before filming this movie."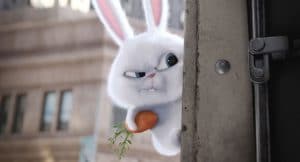 Kevin then commented that he had a lot in common with the larger than life character, Snowball. "What I relate to with Snowball is the self-deprecation. I'm very big on self-deprecation and addressing things before other people do. And there are moments in this movie where Snowball does that. Those are things that I took, from me and my stand-up, and put them within the building of the character.
Other than that, I love the fact that he is a leader. He has a leadership quality. I'm very much a leader. I'm very much a guy who can put a plan into place and get people to believe the plan and sacrifice to get there and reward you when we do get there. That's the making of a CEO. Any CEO has that talent, has the ability to sell you on why we sacrifice today to win big tomorrow. Snowball does that," he said.
Lake Bell said of her character "Chloe is a realist, which I am. But, I am an optimist, and she is kind of a flagrant pessimist. I tend to be sarcastic and sort of silly, and she has that as well."
To learn more about The Secret Life of Pets, visit – www.thesecretlifeofpets.com
On Facebook – www.facebook.com/SecretLifeOfPets
On Twitter – www.twitter.com/PetsMovie