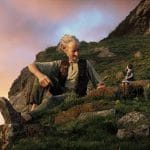 Three of the world's greatest storytellers – Roald Dahl, Walt Disney and Steven Spielberg – unite for the first time to bring Dahl's beloved classic "The BFG" to life on screen.
BFG
combines fairytale with technology to tell a story in a world created by Steven Spielberg as told by Roaul Dahl. We meet Sophie and the Giant and believe their relationship grows from fear of each other to trusted friends and comrades in arms. These new friends and their realization that they each are different form all others they know is a wonderful allegory of schoolyard bullies and following the dreams of using her royal majesty's armed forces to retaliate and win the day. The story, the underlying message, and the filmmakers' abilities combine to make for a wonderful couple of hours of family entertainment.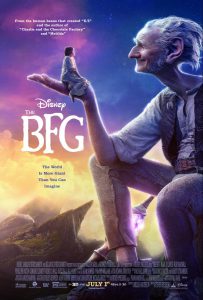 In the middle of the night, when every child and every grown-up is in a deep, deep sleep, all the dark things come out from hiding and have the world to themselves. That's what Sophie, a precocious 10-year-old, has been told, and that's what she believes as she lies sleepless in her own bed at her London orphanage. While all the other girls in the dormitory dream their dreams, Sophie risks breaking one of Mrs. Clonkers's many rules to climb out of her bed, slip on her glasses, lean out the window and see what the world looks like in the moonlit silence of the witching hour. Outside, in the ghostly, silvery light, her familiar street looks more like a fairy tale village than the one she knows, and out of the darkness comes something long and tall…very, very, tall. That something is a giant who takes Sophie and whisks her away to his home in a land far, far away. Fortunately for Sophie, he is the big friendly giant and nothing like the other inhabitants of Giant Country. Standing 24-feet-tall with enormous ears and a keen sense of smell, the BFG is endearingly dim-witted and keeps to himself for the most part. His brothers are twice as big and at least twice as scary, and have been known to eat humans, but the BFG is a vegetarian and makes do with a disgusting vegetable called Snozzcumber.
Upon her arrival in Giant Country, Sophie is initially frightened of the mysterious giant, but soon comes to realize that the BFG is actually quite gentle and charming, and since she has never met a giant before, is full of questions. The BFG brings Sophie to Dream Country where he collects dreams and sends them to children, teaching her all about the magic and mystery of dreams. Having both been on their own in the world up until now, an unexpected friendship blossoms. But Sophie's presence in Giant Country has attracted the unwanted attention of the other giants, who have become increasingly more bothersome. Sophie and the BFG soon depart for London to see the Queen and warn her of the precarious giant situation, but they must first convince her that giants do indeed exist. Together, they come up with a plan to get rid of the giants once and for all.
We have these great BFG coloring sheet, BFG maze, and a BFG word search that'll help keep kids active after seeing the movie.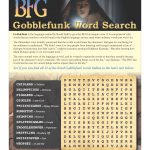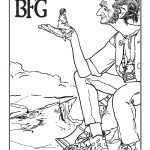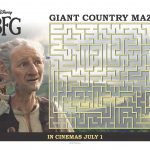 Find out more about the BFG by visiting its website.