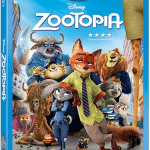 Walt Disney Animation Studios' comedy-adventure "Zootopia" has broken records worldwide, earning nearly $1 billion at the global box office and becoming one of the highest grossing originalmovies of all time. Critics and audiences of all ages have fallen in love with the wonderfully innovative mammal metropolis of "Zootopia" and the comedic chemistry of rookie rabbit officer Judy Hopps (Ginnifer Goodwin) and scam-artist fox Nick Wilde (Jason Bateman). In fact, critics have hailed "Zootopia" as one of the best films of 2016 and Richard Roeper from Chicago Sun-Times calls it "One of the best animated films ever."

When the runaway hit arrives home on Digital HD, Blu-ray, Disney Movies Anywhere, DVD and On-Demand platforms on  June 7, 2016, viewers will not only be able to enjoy the vibrant world of Zootopia and reunite with their favorite characters, but also discover more about the evolution of this extraordinary tale through in-depth bonus offerings.
Bonus features include candid conversations with filmmakers and artists behind Zootopia, an alternate opening, never-before-seen characters and deleted scenes, and a sneak peek at some of the hidden Easter Eggs that make reference to Disney Animation's most beloved films and characters.
Directed by Byron Howard ("Tangled," "Bolt") and Rich Moore ("Wreck-It Ralph," "The Simpsons") and produced by Clark Spencer ("Wreck-It-Ralph," "Lilo & Stitch"), the progressive mammal metropolis of Zootopia is a melting pot where animals from every habitat live side by side and "anyone can be anything." But when new rabbit police officer Judy Hopps (voice ofGinnifer Goodwin) arrives in town she discovers that being the first bunny on a police force of tough, hulking animals isn't so easy. Determined to prove herself, she jumps at the opportunity to crack an unsolved, challenging case even if it means working with a fast-talking, scam-artist fox, Nick Wilde (voice of Jason Bateman), to solve the mystery. But the case leads these two unlikely partners to an uneasy conclusion that Zootopia's "evolved" society is being pulled apart by unseen forces determined to use fear to take control of the city by turning predators and prey against each other.
Others who helped bring the world of Zootopia to life, include a remarkable roster of voice talent including Idris Elba (BBC's "Luther," Golden Globe®-nominated for Netflix's "Beasts of No Nation") as Judy's no-nonsense cape buffalo boss Chief Bogo, Jenny Slate ("Obvious Child," "Marcel the Shell") as Assistant Mayor Bellwether, Nate Torrence (HBO's "Hello Ladies," Fox's "Weird Loners") as charming cheetah Clawhauser, Bonnie Hunt ("Return to Me," "Jerry Maguire") and Don Lake ("Dumb and Dumber To," "The Bonnie Hunt Show") as Judy's anxious, but supportive parents, Tommy Chong ("Up in Smoke," "That '70s Show") as Yax the Yak, J.K. Simmons ("Juno," Oscar® winner for "Whiplash") as Mayor Lionheart, Octavia Spencer("Insurgent," Oscar® winner for "The Help") as the distraught Mrs. Otterton, Alan Tudyk("Rogue One: A Star Wars Story," "Trumbo") as Duke Weaselton, Shakira as the socially minded international pop star Gazelle, Raymond Persi ("Wreck-It Ralph," WDAS story artist) as Flash the sloth, Maurice LaMarche ("Pinky and the Brain," two-time Emmy® winner "Futurama") as Mr. Big, Tiny Lister ("Friday," "The Fifth Element") as Finnick, John DiMaggio (Fox's "Futurama," Cartoon Network's "Adventure Time") as Jerry Jumbeaux Jr., Katie Lowes (ABC's "Scandal," "Big Hero 6") as Dr. Badger, and Jesse Corti ("Frozen," "Beauty and the Beast") as Mr. Manchas.