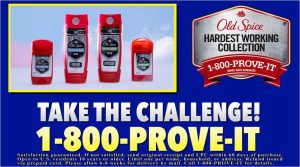 I use Old Spice for years, its pretty much my go to in terms of deodorant.  So Starting tomorrow I've got an awesome giveaway pack going up on facebook.com/dadarocks in this kit you'll get…
The "Old Spice Hardest Working Dad" toolbox giveaway prize pack includes:
FREE entry into a 2016 Tough Mudder event to challenge the performance of the Hardest Working Collection

An Old Spice t-shirt fitting for Legendary Dads

A gift from Tough Mudder partner Merrell to keep more than your armpits dry

An autographed photo from the product king himself, Bob Giovanni (as seen on Old Spice's popular digital infomercials)

Recognition of your Legendary Dad status with a customizable trophy, as commemorated by Old Spice
Guys have come to know Old Spice for its premium scents, but they may not fully realize the performance Old Spice products provide. With the new Hardest Working Collection, Old Spice is taking performance up a notch, offering the highest-performing Old Spice antiperspirants and body washes in the world, truly delivering Legendary Protection for Legendary Men.
The Hardest Working Collection delivers unparalleled performance for guys that demand more from their grooming products – antiperspirants that protect them from odor and sweat, and body washes that clean and don't dry their skin.
The Hardest Working Collection products are available at retailers nationwide, with downloadable deals now at Coupons.com: http://bit.ly/OSHWCDeal
Odor Blocker Anti-Perspirant/Deodorant – Odor Blocker is Old Spice's most powerful invisible solid anti-perspirant/deodorant, delivering legendary performance through stronger and longer sweat protection than its other collections and a 50 percent increase in BCD odor fighting technology that only Old Spice can claim. Odor Blocker's unique invisible solid anti-perspirant formula forms better plugs to protect against sweat.
Sweat Defense Antiperspirant/Deodorant – Sweat Defense soft solid anti-perspirant/deodorant is Old Spice's 'gold standard' delivering "stronger and longer sweat protection" for all-day dryness. The category standard for extra effective anti-perspirant/deodorants is a 30 percent sweat reduction. Old Spice Sweat Defense delivers a 66 percent sweat reduction. Sweat Defense also is now turbocharged with Old Spice's proprietary BCD technology to trap and lock away bad odors as they occur while releasing fresh, manly scent in its place.
Dirt Destroyer Body Wash – Dirt Destroyer is Old Spice's most powerful body wash, offering 15 percent more cleansers, a 30 percent thicker formula and 20 percent more scent. Its thicker formula delivers a thick, dirt-eliminating lather and less down the drain resulting in a better overall shower experience.
The Hardest Working Collection debuts with a new scent – Lasting Legend – which offers a blast of fresh citrus balanced with a cool peppery spiciness. Lasting Legend pushes the limits of protection to help guys push achieve greatness. Old Spice also is pulling in some of the brand's most popular scents that will be "amped up" for this lineup:
Pure Sport Plus, Extra Fresh, Tougher Timber, Stronger Swagger and Fresher Fiji (for Sweat Defense line).
1-800-PROVE-IT Challenge – Old Spice is so confident in the Hardest Working Collection, the product is backed with a money-back guarantee – as seen in a series of humorous digital infomercials hosted by Product King® Bob Giovanni. If guys use the Hardest Working Collection and the products do not live up to their standards, they can call 1-800-PROVE-IT for a full refund. Just call the line, and Bob Giovanni himself will provide further instructions.
Disclosure: I have partnered with Life of Dad and Old Spice for this promotion.