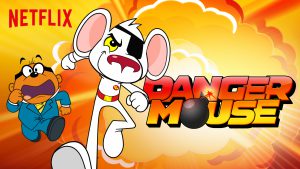 I grew up with Danger Mouse, it had a over 8 years running starting in 1981.
The concept of the show was Danger Mouse, the greatest secret agent in the world, must follow Colonel K's orders (and try not to break Professor Squawkencluck's inventions) to foil Baron Greenback's and his henchman Stiletto's plans.
Now there isnt much difference in the plot between the original version verse the new version on netflix. Tbe big difference is the CG style animation, which looks pretty awesome.
I'm super excited to introduce my son to one of my favorite cartoon characters growing up – watch Danger Mouse on Netflix.