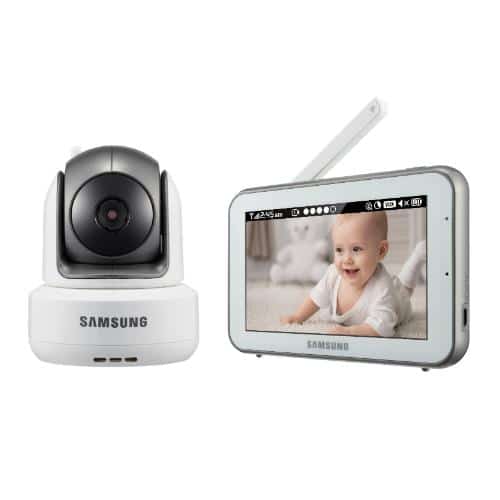 Caring for a newborn/toddler can be physically and mentally draining. Whether you're a first-time parent or an experienced diaper changing dad, it's impossible to multitask without the crying spells.
To give parents a brief, yet beneficial moment of zen the team over at Samsung Techwin America released the BrightVIEW Baby Video Monitoring System. This addition to the company's growing, baby monitor portfolio includes a portable 720p HD camera with a 5.0" LCD color touch screen that will enable today's tech-savvy parents to clearly and securely monitor their babies around the clock. With the HD picture quality and improved night vision capabilities, parents will be feel ok about doing other household chores or taking a moment of serenity without missing a second of their children's movements.
Key features for the BrightVIEW Baby Video Monitoring System include:
HD Audio Enhancements – This baby monitor is equipped with the latest audio enhancements to amplify the two-way talk ability and help parents to coo their babies back to sleep. It also comes with an innovative audio mode feature that conserves battery power while ensuring child safety. While the screen is off, the monitor will continue to detect sound in the vicinity of the camera.
Four Built-In Lullabies – Often times, parents don't have vocal talent to sing lullabies on a nightly basis. The BrightVIEW monitor saves the day by offering four, pre-programmed lullabies – including Brahms Lullaby and Hush Little Baby – to help soothe babies to sleep and allow parents to relax. 
Parents can also schedule alerts through the BrightVIEW monitor to conveniently remind them of their infant or toddler's next feeding time, which my rules is any time the baby cries.
You can buy your own over on amazon.