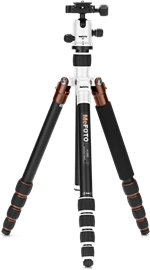 With both mother's day and father's day quickly coming up, I know people start racking their minds what do I get for a gift for people.  If you have a photog in your life then I highly recommend checking into MeFOTO.
MeFOTO has done something really incredible its making photography accessories and making them designed to reflect the user's personality.  Imagine getting a tripod in almost any color, ok that's kind of cool but imagine having the ability to totally customize the colors – that's awesome.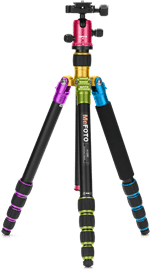 Pick your favorite sport team colors (imagine going to photography your kids sporting event with a tripod that matched their colors). Are you studying photography in college – why not get something that matches the school colors? or maybe make it totally custom so you know your tripod is yours. Between the different parts and 12 colors to choose from you have over 792 combinations!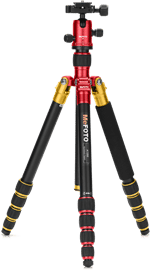 The MeFOTO BYO tripod… BYO meaning: build your own. Allows you to customize the MeFOTO RoadTrip Travel Tripod in 12 vibrant colors. Great for point & shoot, mirrorless, micro 4/3 and DSLR cameras with larger lenses. Plus, it converts to a monopod in seconds. Compact, versatile, and light for on the go photographers and filmmakers. http://www.mefoto.com/byo/maker.aspx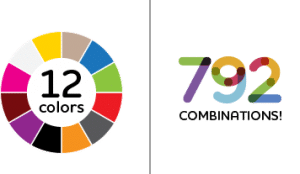 For those that dont always love the selfie you can get the MeFOTO sidekick to hold your smartphone to any tripod but it preticually looks good when you've got your color match one with the MeFOTO Tripod. The SideKick will help you with your vidcasts, shooting those unboxing videos, or getting that amazing selfie (using a timer).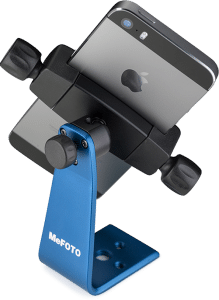 The MeFOTO SideKick is a smartphone adapter that provides mobile photographers and filmmakers with solid camera support and precision control. Indispensable for creating sharp photos, videos, time lapse and long exposures. The 360° rotating ball joint allows for quick repositioning from vertical for photos to horizontal for video and anywhere in between.  (Oh, and it's available in super cool colors.) http://www.mefoto.com/products/sidekick360.aspx
While the design your own aspect is so very cool, what really matters is that these are super high quality products.  I was supplied with a demo unit and I've shot videos, photos and have traveled around the city with the tripod in its little carrying case!