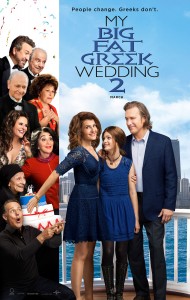 My Big Fat Greek Wedding 2 is a movie about finding strength in who you are.  Opening to full national release on March 25, with a few selected theaters playing it now, we recommend this perfect family film for anyone who is a member of a family.   This sequel to the blockbuster of 15 years ago brings the Portokalos family forward to the next generation.  Nia Vardalos found the sparks for the next story from her own personal journey and the trials and tribulations that occur in life.
Starting with Toula (Nia Vardalos) and her husband Ian (John Corbett) dealing with their daughter, Paris, (Elena Kampouris) a high school senior waiting to hear from colleges.  Rebellious, trying to be independent, but still a product of her family environment, she works, begrudgingly at the family restaurant, should she go to a school near home or a thousand miles away.  Elena is a star to watch.  Her beautiful face, big bright eyes, and warm smile light up every scene she's in especially as her character softens as she finds her own positivity which gives her an evolved strength in her own decisions.  Toula and Ian have their own problems as their busy lives have taken the spark out of their marriage.  Try though they may, it doesn't come back to them as easily as they might want.  Her lesson in her own life, and in writing this script was that she needed to lose balance in her life to know what to look for to find balance.
Toula's parents reprised by Lainie Kazan and Michael Constantine, are perfectly paired as the couple that have been together for three generations and are in love not for any reason other than they are husband and wife.  But circumstances occur which tests that love and their marriage and it being a warm and fun movie it will be no spoiler to tell you they find their love renewed and restored.
Aunt Voula (Andrea Martin) plays the strong leader of the family in every crisis.  She explains her guide was her own aunt who taught her to go head strong through any situation and don't let anyone stop you.  She gives gratitude to her aunt not only for being the role model for Aunt Voula but for advice to her to get over her own insecurities to become an actor.   Joey Fatone, a long time stand up comic, who plays Nia's brother, informs about a truth in acting, "the art of acting is how your character reacts to the line just handed to you."  All the family members as unbearable as it seems are just totally loveable.
The rest of the family members have issues, which I won't reveal and friends come by with other plot complications and twists.  In the end this is simply a story about family bonds, inner strength, and the importance of love no matter your age.  Go see it with or without your entire family, but go with someone you love, you might get lucky when you get home.