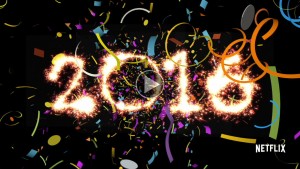 This year you can celebrate as a family and still have time for a parents-only party with a whole new set of New Year's Eve countdowns, available today only on Netflix, designed for preschoolers, tweens and everyone in between. You choose when to say goodnight, and kids choose how to celebrate with their favorite characters.
Already dreaming about pressing play on that New Year's Eve celebration long before the clock strikes twelve? You're not the only one. According to a recent survey from Netflix, 9 is the new midnight for parents in the U.S., with nearly half of parents (48%) saying they'd ring in the new year by 9 p.m.
So grab your party hats, noisemakers and 2016 glasses — and celebrate those famous 10 seconds, whether the ball has dropped or not. We won't tell your kids it's not midnight if you don't.
Kids can pick their favorite character or ring in the new year again and again with countdowns featuring Oona and Baba of Puffin Rock, Care Bears & Cousins, Inspector Gadget, the Project Mc2girls, King Julien, or Mr. Peabody & Sherman and all their DreamWorks Animation friends