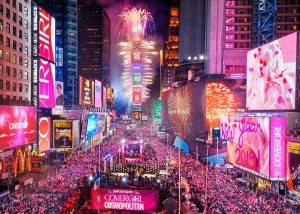 Grammy Nominated Music Sensation Jessie J Announced as Headline Entertainer for Times Square New Year's Eve Live, Commercial-Free Webcast 
Jessie J to Perform John Lennon's "Imagine" and Many of Her Top Hits;  Singer-Songwriter Daya to Perform Hit Song "Hide Away" 
National television and radio personality Allison Hagendorf (Host on The CW, VH1, Fuse TV, SiriusXM) returns to host the live, commercial-free webcast for the fourth year. She will be joined by Maggie Rulli, Andrea Boehlke and Jeremy Hassell, who return for their third New Year's Eve webcast. Rulli and Hagendorf will kick-off the six-hour celebration at 6 p.m. EST and welcome the nearly one million revelers attending the celebration in Times Square as well as introduce the star of the show, the Times Square Ball. At the top of each hour, Hagendorf will be joined by a special guest who will talk about his or her New Year's Eve experience and Confetti Wish for the New Year and then lead the revelers in an hourly countdown. Throughout the night, Hagendorf will keep the revelers informed about the musical performances and other exciting entertainment in Times Square. Rulli will provide exclusive interviews and backstage access while Boehlke and Hassell will get the fun personal stories from the revelers arriving from around the world to celebrate New Year's Eve in Times Square.
The seventh annual webcast, enabled by Livestream, will cover the action and festivities in Times Square, beginning with the Ball Raising at 6 p.m. EST, plus live musical performances, hourly countdowns, behind-the-scenes stories, and star-studded interviews as anticipation builds towards the midnight countdown and the famous Ball Drop.
International music sensation and Grammy Award nominee Jessie J will perform several of her top hits throughout the night and will continue the New Year's Eve tradition of singing John Lennon's "Imagine" moments before midnight. The British artist is best known for her wide vocal range and unconventional performance style, mixing soul vocals with contemporary, hip-hop and pop.
Additionally, singer-songwriter Daya will perform her hit song "Hide Away."  Univision will present musical performances by Maluma and CNOC, winners of Univision's hit reality show La Banda. Last year's webcast was watched by more than 1.7 million unique viewers representing nearly 200 countries.
Image by Countdown Entertainment, LLC