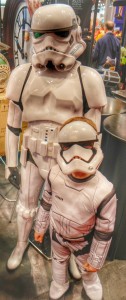 New York Comic Con comes and it goes but memories last forever…  This year I took my son Marc (7 years old) to NYCC15 Kids Day.  The show was packed but Marc wanted to wear his Storm Trooper costume. We walked around a while checking out the limited edition figures and toys and then we started to get to the art work.  We past this booth that was wall to wall art.  It happened to be Choice Collectables, who has taken the idea of comics as a fine art to the next level.  Each of their pieces are amazing.
When you get into a booth at NYCC you're almost rushed in and out just as quick but not at Choice Collectables they loved explaining the different styles of art work to my son.  They showed him the special star wars section but what I really loved was the Marvel section.  They had amazing pieces from one of my favorite comic book artists Alex Ross.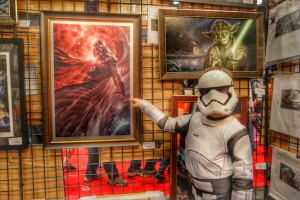 Choice Collectables is a premier provider of original, limited edition, and out-of-print pop culture fine art. Founded in 1997, Choice is the brainchild of Business Executive Ari Goldman, whose love for the artistry of pop culture drew him to the world of animation collectibles.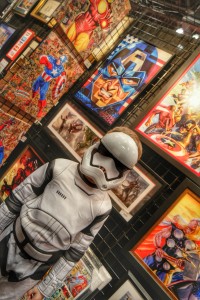 For more than 18 years, the company has been proud to offer an incredible selection of items, including: fine art, collectables and sports memorabilia. One of Choice's marquee components is its magnificent work as the licensed fine art publisher for Marvel Comics. By sticking to their core purpose of elevating pop culture through high-value limited-edition fine art across a wide spectrum of price points, Choice Collectibles has brought Marvel Fine Art alongside contemporary fine art greats like Andy Warhol, Norman Rockwell, and others in galleries worldwide. With their product mix featuring Spiderman, Iron Man, Captain America, The Hulk, Thor, Guardians of the Galaxy, and many more.
As you could imagine I was sold on the spot.  Marc needed some real young adult artwork as his room is shared by his baby sister so he's fighting off the pinks and purples with his super heroes.