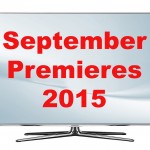 While its sad to see summer end, we rejoice knowing that things like back to school comes so does the fall tv schedule. One big change for me this year is I jumped ship to FIOS by Verizon, so I've gotta redo all my DVR settings and add some of this seasons newest shows.
Here are some of the highlight premieres to set your DVR in September. All times are based on EST time zone.
September 21st
Gotham – 8pm FOX
The Voice – 8pm NBC
Minority Report – 9pm FOX
Blindside – 10pm NBC
Scorpion – 9pm CBS
Castle – 10pm ABC
NCIS: LA – 10pm CBS
September 22nd
NCIS – 8pm CBS
Scream Queens – 8pm FOX
The Muppets – 8pm ABC
Fresh Off the Boat – 8:30pm ABC
NCIS: New Orleans – 9pm CBS
Limitless – 10pm CBS
September 23rd
Rosewood – 8pm FOX
Empire – 9pm FOX
Modern Family – 9pm ABC
Black-ish – 9:30pm ABC
Nashville – 10pm ABC
September 24th
Grey's Anatomy – 8pm ABC
Heroes's Reborn – 8pm NBC
Scandal – 9pm ABC
How to Get Away with Murder – 10pm ABC
The Player – 10pm NBC
September 25th
The Amazing Race – 8pm CBS
Hawaii Five-O – 9pm CBS
Shark Tank – 9pm ABC
Blue Bloods – 10pm CBS
September 27th
Once Upon a Time – 8pm ABC
The Simpsons – 8pm FOX
CSI Finale Movie – 9pm CBS
Family Guy – 9pm FOX
Blood & Oil – 9pm ABC
Quantico – 10pm ABC
September 29th
Grandfathered – 8pm FOX
The Grinder – 8:30pm FOX
Marvel's Agents of Shield – 9pm ABC
Beyond the Tank – 10pm ABC
September 30th
Criminal Minds – 9pm CBS
Chicago PD – 10pm CBS
Code Black – 10pm CBS
One thing I will say is between all the great programming on TV this season I'm glad to see that the FIOS HD channels are even sharper then my last provider. On October 1st I'll publish my list of DVR premieres for that month, which will include a lot of super hero shows.