Moving it's location to ScuttleHole Road and Lumber Lane and having the event on the 4th of July weekend served the community well. We walked the event and met with many gallerists and artists.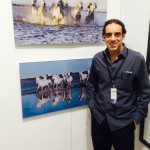 We spoke to gallery owners like Roy Seifert of Contempop Gallery of Tel Aviv, Rachel Teachout of Edgewater Gallery of New Jersey. Michael Joseph of Artblend spoke to us about the photos of a herd of white horses gracefully galloping in the Camargue, in the South of France.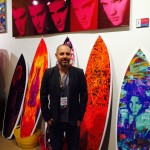 We interviewed artist Paul Gerben, who was represented by Chase Edwards Gallery of Bridgehampton, showing his iconic art of Elvis, Jimi, and coke bottles on surfboards to be hung in the homes of old and young.
All agreed the show was successful both in viewers passing by, excitement of all who came but most importantly to the galleries and artists were sales. Art is moving and all were happy to have been there. First year participants were ready to sign up early and those that have been at ArtHampton for eight years will be back again next year.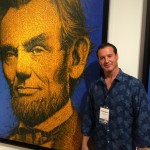 The Evan Lurie Gallery represented the work of Cuban artist Alexi Torres. The oil on canvas piece entitled Lincoln Peace sought $36,000 and according to Mr. Lurie the piece was sold.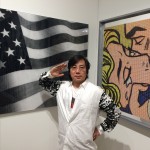 Alex G. Cao was represented by the Center Space Gallery of Allen Street, NYC. Alex's American Flag was actually pixels of JFK and his family. Flag vs. JFK is not only patriotic and a centerpiece but a conversation piece that can take hours to inspect for the detail of each pixel.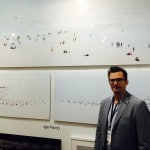 We spent some time with Tom Gramegna of Gallery 270 of Englewood, New Jersey. What first caught our eye were the pieces of the Jersey shore before and after Sandy. The famous roller coaster in it's glory and then underwater, shot from the same vantage point by Michael Massaia. The Boardwalk, pier and other images captured about 4 years apart showed the destruction Sandy wrought in a way that only art can capture.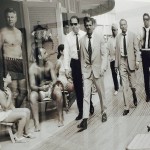 He also represented Terri O'Neill who became a photographer of note based upon his photos of Frank Sinatra. Ask Tom about the note of introduction that Terri shared with Frank and how that note, bonded the two for a lifetime of friendship.