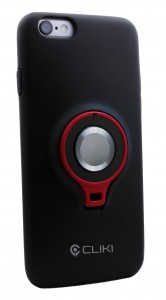 I'd say daily, if not weekly I receive an email about the latest new gadget, gizmo or down right stupid idea available via crowd sourcing, whether that be Kickstarter or Indiegogo. Typically I find myself reading the first line or two, seeing if the product is truly worth my time and if not, I delete the email and never think about it again. Every once in a while, I come across a product that truly has merit. It's either that unique or amazing, or it solves a real problem I deal with on a regular basis. Well, CLIKI is both!
That being said, I'm sure we can all agree that smart-phones are incredible, they come packed with features and if they don't you can usually add them thanks to iTunes or the Google store. The problem is sometimes (more often than I care to admit) accessing and using them can be quite a pain in the you know what! For example, to snap a picture you have to wake your screen, unlock your phone, look for your camera app, launch it, then finally get to snap the picture. By then the "photo opp" is gone, especially if you're dealing with a couple of kids that are always on the go!!!
That's where the brilliance of CLIKI comes in.
CLIKI is a wireless smart button that comes built-in (available separately also) a sleek smartphone case. Then you just download the app and the user can control his/her favorite features on the smartphone with the push of one button!
CLIKI will allow you to control your music, take pictures, find your phone or even activate a tracking beacon in case of an emergency all with just the one button!
The CLIKI button can be easily removed from your phone so you can use it like a remote control for group photos or positioned in a more convenient location when riding a bike or motorcycle for easy access to the one button control!  Barring any surprises CLIKI will be on Kickstarter in Mid-July. I don't know about you but I'll definitely back it and suggest you to do the same. For more information check out clikibutton.com