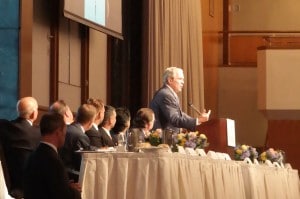 As we all celebrate Father's Day we think of our Father's and our children. At the 74th annual Father of the Year event at the New York Hilton, given by the Father's Day/Mother's Day Council, Emceed this year by Mark K. Shriver, a Kennedy look alike he made reference to one of the awardees, former President George W. Bush and how nauseating it is to play on a family name.
Daughter, Barbara Bush gave the presentatoin speech for her dad, and welled in tears "a family trait" as she recounted all her parents and grandparents had done for her and her sister. When the former President accepted his award, he credited becoming a father with helping him stop drinking and then spoke with humor and eloquence about the importance of the role of a father, "I think the most important priority for a dad is to be a dad. In my case, I might have been slightly self-absorbed at times, but when I became a dad, I only had one real job and that was to provide for these little girls. " He said he didn't think he would have quit drinking if he hadn't become a father. But most of his time at the microphone was to speak from his book 41 A Portrait of My Father about his father.
Also receiving recognition from the National Father's Day Committee was Morris Goldfarb, the head of the G-III Apparel Group, who spoke about his children and grandchildren and how he changed his ways over the past five years after realizing how much he missed traveling and building his business and being away from his family and how now when he shares his vacation home in Saint Barts with his children he is the first one up to prepare breakfast for his grandchildren, and of course, how much money he has given to them.
David Gonzales of Jacksonville, Florida, was recognized as the Ashok Sani "All-Star" dad, who met his child when she was three after falling in love with her mother. Both father and daughter agreed that the bond of genes did not matter to them, agreeing they love each other and feel for each other as if they were genetically bonded.
As a father and grandfather, this award makes me think about what my kids and grandchildren think of the role I played and will continue to play in their lives, as I remain an integral member of the family. I can only hope, though I'll never win a national award like President Bush did today, that in their minds and hearts that they always knew and will know that I love them unconditionally and that I am there for them in any way I can be. That's my view of my being a Dad.
And to my Dad, allow me to take this time to wish you a happy Father's Day too.