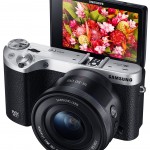 Samsung NX500 Mirrorless Camera
The NX500 is defined by its advanced 28.2MP APS-C, BSI CMOS Sensor. Delivering up to 9 frames per second bursting with sharp detail and intense colors. The large sensor is ideal for creating detailed images and stunning 4k/UHD video.
Philips ShoqBox Mini
This rugged and water resistant portable wireless speaker can go wherever you want to go, in and out, up and down, rain and shine. It sounds as powerful as it is tough.
TabloTV
Tablo is a 2-Tuner Over-The-Air (OTA) DVR for Cord-Cutters using HDTV antennas to access broadcast TV signals. All Tablo units include dual band Wi-Fi enabling Tablo and the antenna to be placed in an optimal location for OTA reception. Browse, record and stream up to two simultaneous live or recorded HDTV programs on your iPad, Android tablet, laptop, smartphone, or your big screen TV using Roku, Chrome cast or Apple TV.
Roku 3 (2015 model)
Roku 3 is the fastest, most powerful Roku player. Enjoy more than 2,000 streaming channels offering access to 250,000+ movies and TV episodes, plus games, music, sports, and more
Plantronics Marque 2 (bluetooth headset)
Plantronics Marque 2 M165 Bluetooth headset is the perfect companion for smartphones, with universal-fit conformable gel eartips, a DeepSleep power-saving mode and dual microphones that reduce background and wind noise for crisp, clear call quality. Listen to music or stream audio and Internet radio, manage your calls without pressing buttons – just say "Answer" or "Ignore".
Plantronics BackBeat PRO (noise canceling headphones)
Wireless, active noise canceling headphones + mic. Music makes any moment more personal.Every day, we stream our digital music to create a personal soundtrack while at home, work, running errands, and even while traveling.
Bose SoundSport (in-ear headphones)
SoundSport In-Ear Headphones energize your workout with full, balanced sound that conventional sports earbuds can't match. And because they're sweat-resistant and have proprietary StayHear tips, they survive and stay comfortably in place during vigorous exercises.
Izzi Gadgets (amazing iPhone cases for the Photographer)
You get five pro-grade interchangeable lenses with the twist of the rotating carousel, and your phone is safe from any bending. Life is better REMIXed.
WakaWaka solar powered charger (with a buy one give one twist)
The WakaWaka Power+ (WWP+) is the new version of the highly acclaimed, durable, lightweight and compact solar charger that is capable of charging virtually any type of smartphone or small electronic device within just a few hours and providing up to 150 hours of safe, sustainable light. Chargeable by the sun via a built-in high-efficiency solar panel and patented Intimation Sun Boost Chip, or through a standard wall outlet.
Ventev Powercell
This combination wall charger and backup battery is the ideal travel charger. The Ventev power cell 6000+ is a dual output, 6000mAh portable charger which has integrated folding AC prongs. No need to carry a wall charger for your backup battery. Charge your phone and tablet while plugged into the wall or with the power stored in the onboard battery. The battery delivers 25 hours of talk, 18 hours of internet, 20 hours of video use, plus 100 hours of audio playback.
Apple iPhone 6 / Samsung S6 Edge  / HTC One M9
Every year or two its time to get a new device sometimes we're the last to get an upgrade ourselves… so check out these 3 options for new mobile phones.
Logitech Harmony Ultimate Home Remote
One remote to rule them all… Powerful home entertainment and automation control: One remote easily controls entertainment devices along with connected lights, locks, thermostats, blinds, sensors, and more
Western Digital My Passport X
My Passport X from WD expands your Xbox One or PC gaming experience. Connect this portable and powerful drive to immediately add storage capacity to your console. My Passport X is performance-tweaked to meet the desires of serious gamers.
D-Link  AC3200 ULTRA Performance Wi-Fi Router
You're connecting more devices than ever to your home network. Smartphones, laptops, tablets, phones, Smart TVs, game consoles and more – all at the same time. That's why we created the new AC3200 Ultra Wi-Fi Router. With Tri-Band Technology and speeds up to 3.2GGbps, it delivers the necessary ultra-performance to power even the most demanding connected homes.
The Selfie Stick
This selfie stick is heads above others – it collapsable head makes it fold up into next to nothing… while there are bluetooth versions out there and they look so slick. Take it from an owner – stick to the cabled one… no pairing the extra 4 seconds to plug the wire into the headphone port wont make you miss the moment unlike pairing with bluetooth.