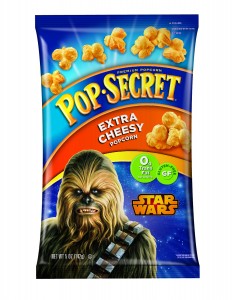 My son loves cheese… my son loves popcorn… so if you put them together like Pop Secret did, then needless to say I never even got a crumb to eat.
Like anyone born in the 1980s we grew up loving star wars and of course what we loved when we were children, some how becomes what our children love.  Marc loves the concepts of star wars and so seeing one of his favorite characters on a bag of popcorn that happens to be his favorite flavor – like wow.
Marc had a friend over and their were playing with some star wars figures watching episodes of clone wars on netflix and were just munching away on their pop secret.  This was a great snack for my wife cause it took no time, simply pop open the bag and pour some out into little cups for the kids.  Harper my daughter who is a little popcorn monster got into the action as well.
Once the kids got a hold of the Pop Secret's new bag that featured Chewie from the Star Wars saga they then noticed the fun trivia to test each others knowledge about star wars.
Since 1984, Pop Secret has been offering popcorn fans a quality product that makes watching movies at home just as fun as going to the theater!  Make sure you have some on-hand for impromptu movie nights at home, picnics in the park, beach trips or sports practice. The Pop Secret pre-popped popcorn line is launching this year with a few delicious flavors, White Cheddar, Salted, Homestyle, Kettle Corn and the new Extra Cheesy.
Disclosure: I have partnered with Life of Dad and Pop Secret and was compensated for my participation in this promotion.