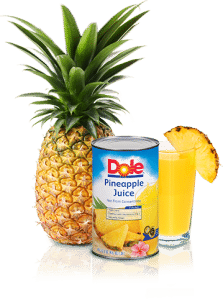 When I was contacted to work on a sponsored post with Dole to talk about their Pineapple juice it took me less then a second to say yes. Why? I grew up on Dole Pineapple Juice – I typically have ordered it at many a weekend brunch.
As a kid I can remember making my own ice pops made of the giant cans of Dole Pineapple juice. As an adult it became the perfect mixer to many a fun night. Either way once the sun is shining I'm usually replacing OJ with Pineapple juice as my go to morning drink.
Whats in that amazing can of Dole Pineapple juice?
100% juice
Not from concentrate
Excellent source of vitamin C
Good source of vitamins A&E
Naturally gluten free
BPA free packaging
Non GMO
Dole Canned Pineapple Juice can be found in the shelf-stable juice aisle of grocery and super-center stores nationwide. It's available in both a 46oz can or 6oz 6-pack of cans.
Of course I've got a great way for you to save money with this $1.00 off coupon for any 46oz or 6oz 6-pack of DOLE Canned Pineapple Juice. http://bit.ly/1G803wX
Now those that like interesting in cooking I have a great treat for you to cook up…


Asian Noodle Slaw (source)
Ingredients
1 can (6 oz) DOLE Canned Pineapple Juice
3 tbsp rice wine vinegar
3 tbsp vegetable oil
2 tbsp sesame oil
1 tsp salt
1 tsp grated ginger
1/2 tsp coarse pepper
1 bag (1 lb) DOLE Coleslaw Blend
8 oz cooked broken spaghetti
6 tbsp dry roasted peanuts, unsalted
Directions
In a large bowl, whisk together first seven ingredients. Add cole slaw and spaghetti. Toss well and sprinkle with peanuts.
Visit dole.com/sunshine to learn more about DOLE Canned Pineapple Juice's Year of Sunshine, and enjoy bright ideas on mixing tasty tropical cocktails, marinades and other delicious menu items.
For me I would eat this a light lunch and par it with some Dole pineapple chunks, cause whats better then ice cold pineapple chunks on these very hot spring days.
Want to connect with Dole online?
Facebook.com/DolePackaged
Pinterest.com/DolePackaged
Twitter.com/DolePackaged (@DolePackaged)
This post is thanks to being part of the Mom It Forward Blogger Network