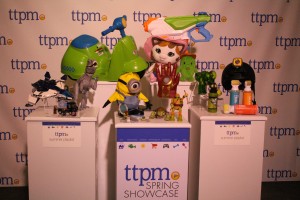 On Thursday April 30, TTPM held its annual Spring Showcase, putting the best and the brightest of this summer's toy scene on display with an event that included one-on-one time with representatives from top toy companies, as well as a special press conference. In the conference, we got a look at some of TTPM's best picks for their various imprints, including Outdoor Toys, Movie Toys, the newly-added Pet Products, and more!
Below, you can take a look at some of the best toys that were on display at this year's TTPM Spring Showcase, along with our take on them.
Movie Toys
This summer, major movie hits like Avengers: Age of Ultron, Minions, and Jurassic World are sure to dominate the box office, so it's no surprise that the toys based off of them will be a hit with kids as well! TTPM's top three movie toys for summer 2015 cover all the bases, from roleplay to interactive robotics, and of course good old action figures. Check out the gallery above to see Minions Tumblin' Stuart, Avengers Age of Ultron Iron Man Arc FX armor, and Jurassic World Indominus Rex!
Outdoor Toys
Nothing's more emblematic of summer as a kid than playing outside with your friends and family, having fun in the sun both on the block and on the beach. It's with this in mind that TTPM celebrates the best outdoor toys every year, and this year's top three look incredible! Check out the gallery above for a look at the Razor Jr. Mini Mod, Super Soaker Flood Fire (which attaches to a garden hose for constant water-gun refilling!), and RoseArt's Shake n' Roll Chalk Paint!
Breakout Hits
Finally, TTPM's "Breakout Hits" category highlights the toys that are expected to really shine over the summer (And beyond!) This year's top three Breakout Hits feature tons of fun across the board– with tech, outdoor play, and plush making the cut. Check out the gallery above to see VTech's Kidizoom Action Cam, Sick Bricks by Spin Master, and Just Play's line of Sheriff Callie plush!
The TTPM Spring Showcase always offers excellent insight into the best and brightest of what's coming up in kids' toys and games– if you're looking for what will be hot this summer (other than the weather!) these toys are surely the best bet!