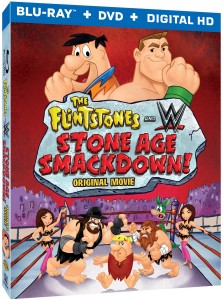 Looking for something to "Yabba-Dabba-Doo" together with your kids? Check out The Flintstones and WWE's all-new animated film, The Flintstones & WWE: Stone Age Smackdown, co-produced by WWE® Studios and Warner Bros. Home Entertainment. Timed to debut leading into WrestleMania 31, this all-new original movie is available on DVD, Blu-ray Combo, and Digital HD for the first time tomorrow– March 10, 2015! Rated the #2 greatest cartoon of all time by TV Guide, the Flintstones' return to the center ring will be sure to deliver high-octane action for fans of all ages, bringing parents who grew up with The Flintstones and kids who love WWE together like never before! The Flintstones & WWE: Stone Age Smackdown will be available on Blu-ray Combo, DVD and Digital HD.
Perfect for kids who have older siblings that love WWE, this all-new, original movie brings some of WWE's toughest, wildest superstars to Bedrock for an awesome crossover with some of the most iconic and popular cartoon characters of all time– The Flintstones! When Fred loses his family's vacation money, he hatches one of his hair-brained plans to get it back. It's a sports entertainment spectacle that involves throwing his best bud, Barney into the wrestling ring with the likes of John Cenastone (John Cena), Marble Henry (Mark Henry) and even The Undertaker, with Fred himself as event promoter! The crowds roar, the "clams" are pouring in from ticket sales and even Mr. McMagma (Vince McMahon) is taking notice of all the hoopla. Can Fred keep serving up bigger and badder matches or is he in for the rocky ride of his life? Including all-star appearances from The Boulder Twins (Brie and Nikki Bella) and Daniel Bry-Rock (Daniel Bryan), it's time to get the whole family together for a collection of hard-hitting, side-splitting laughs from the most epic event in all of prehistory!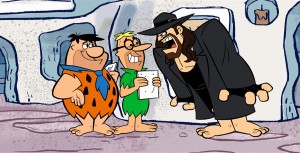 The movie is a fun and exciting mashup of the classic Flintstones characters we all know and love with some of WWE's biggest names– it's a joy for kids and parents alike to see these worlds collide. The Flintstones & WWE: Stone Age Smackdown has become an instant classic in our house (Marc LOVED the movie and we can't stop watching it!) and I'm sure it will in yours too, especially if you're big fans of The Flinstones or WWE!
"The Flintstones & WWE: Stone Age Smackdown" will be available for streaming and download to watch anywhere in high definition and standard definition on their favorite devices from select digital retailers including Amazon, CinemaNow, Flixster, iTunes, PlayStation, Target Ticket, Vudu, Xbox and others. Starting March 10, "The Flintstones & WWE: Stone Age Smackdown" will also be available digitally on Video On Demand services from cable and satellite providers, and on select gaming consoles.