I had attended a Q & A with the cast and crew of Strange Magic. That included creator George Lucas, director Gary Rydstrom, music director Marius DeVries, and stars Alan Cumming, Evan Rachel Wood, Elijah Kelley, Meredith Anne Bull, and Sam Palladio.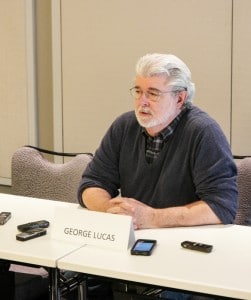 First, it was pretty awesome to have George Lucas walk into the room… He influenced the better part of my childhood and I'd say like 90% of my friends childhood and even our children.
Lucas in particular, who spent 15+ years bringing his vision of Strange Magic to life, had a lot to say about the inspiration behind the film. "What I wanted try to do," Lucas revealed, "was tell a story using the lyrics of existing songs." He added that "originally I wanted it to be all music, like an opera".  This is pretty darn close to a ROCK OPERA for kids as one can be.
"Making this movie was more like a Rubik's Cube than a jigsaw puzzle." Once you see the movie and hear which music was picked and see how the story flows with the music telling the tale, you will understand.  The music is the backbone of the film, and mashing together a movie that depends so heavily on its songs was certainly no simple task for music director Marius DeVries. According to DeVries, over 400 songs were recorded during the creative process of Strange Magic.
Locus had made a movie for tween boys (Star Wars) but since he had daughters, he wanted this movie to about Princess fairies. The fact that one doesn't take the conventional route and that love & beauty isn't skin deep.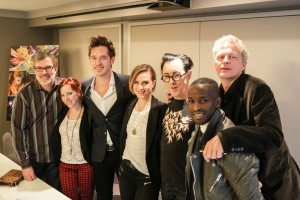 Into our second round of interviews included:
Gary Rydstrom (Director)
Meredith Anne Bull (voice of "Dawn")
Sam Palladio (voice of "Roland")
Evan Rachel Wood (voice of "Marianne")
Alan Cumming (voice of "Bog King")
Elijah Kelly (voice of "Sunny")
Marius De Vries (Musical Director)
The movie professes acceptance and love not only for others, but for yourself as well– an aspect that the film's stars weighed in on as one of Strange Magic's more powerful lessons. "The things that make you different are the things that make you beautiful," said Evan Rachel Wood (who plays Marianne), while Elijah Kelley (Sunny) added that he felt the movie showcases that "no matter how weird and strange you feel like  you are, there's somebody out there who's weird and strange like you."
STRANGE MAGIC opens in theatres everywhere on January 23rd!
Like STRANGE MAGIC on Facebook!
Follow STRANGE MAGIC on Twitter!