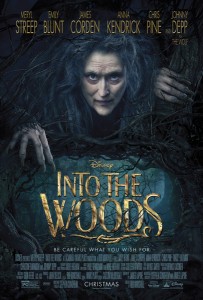 Recently I was invited to the Disney's Into the Woods movie junket. The Junket was host to two panels – the first had James Corden ("The Baker"), Emily Blunt ("The Baker's Wife"), Anna Kendrick ("Cinderella"), Chris Pine ("Cinderella's Prince"), Director Rob Marshall, and Screenwriter James Lapine. The second panel featured Meryl Streep ("The Witch"), Christine Baranski ("Cinderella's Stepmother"), Tracey Ullman ("Jack's Mother"), Producer Marc Platt, and Producer John Deluca.
Anna Kendrick (star of Pitch Perfect) is certainly not playing your stereotypical Cinderella. She spoke about "how Director Rob Marshall was very interested in having a modern sensibility for these characters."  She compared  her character to the notion that women don't listen to their gut and "have to look at everything from every angle."  Noting that Cinderella  allows herself to get into a better situation with the Prince but then realizes it's completely fake and "the Prince is so vacuous."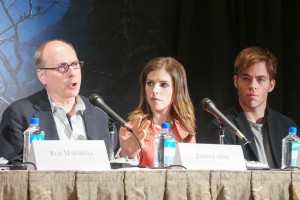 Cinderella's Prince played the Chris Pine (star of Star Trek),  the Prince says during a key  scene "I was raised to be charming, not sincere" of which Pine spoke about that one line informed his character.  The Prince is given the opportunity to reflect on his effect on Cinderella but only for a moment and then chooses to get back on his horse and ride off.
James Lapine spoke about weaving a new fairy tale into the existing ones: "I sort of hit on this idea of combining writing one original fairytale, The Baker and the Wife, and then weaving them together with existing fairytales, and so that's how it all kind of went from there."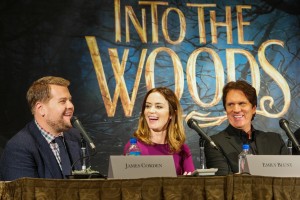 James Corden, who played the Baker, shared that Meryl Streep took the lead at making him and the others feel comfortable.He said her attitude was, if an individual does well, the film does well. She seems like an an amazing person, not just an amazing actress. As the biggest "name" in the movie, it is nice to know that she wants to be a worker among workers, and not a diva: "she's the reason actually, it's the truth, she's the thing that puts you at ease, because she leads from the front and she knows how you feel when she walks in the room, and she does everything she can to put you at ease and make you feel like we are all a company of actors who will get the best out of this experience if we support each other. And I think it shines through in the film that this is a company of people where no one is trying to steal the limelight or the movie from anyone else. It's a group of actors, friends really, all going, "No, no, go and be brilliant. Go and be amazing." And that really comes from Rob and it trickles down through Meryl right to the bottom, and just below that, you'll find me."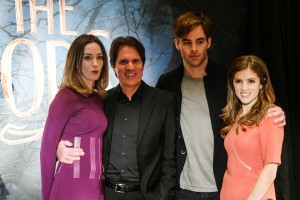 Emily Blunt was concerned about the singing, but Rob Marshall reassured her that he wanted actors who could sing, for the movie, not singers who could act.  The experience of singing (after a few lessons to bolster her confidence) was "exhilarating and impassioned" and "joyful."  Singing with the cast and a 65-piece orchestra for Steven Sondheim was a day she "will never, ever forget. Ever."
Meryl Streep probably is the actress every actor and actress wants to be and when she decides she is going to sing well imagine the pressure. She was the first to come on board after years of turning down similar roles to take on the role of  "The Witch" who longs for beauty and companionship.  The one thing I was surprised by this  New Jersey native at the press conference was her self-deprecating humor. I loved that she joked about rapping in the movie, "I haven't really done my real rap scene yet", wondering if Stephen Sondheim was aware it was even rap when he wrote that scene.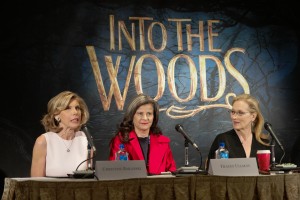 Christine Baranski spoke about how she had tried to convey a contemporary attitude, which would resonate with today's viewers.  She, Lucy Punch and Tammy Blanchard presented Cinderella's stepfamily as social-climbing narcissists, obsessed with fashion and fame (personal fame, not necessarily the fame of others).  Baranski not naming any names but pointed to reality shows that came to mind.
Tracey Ullman was asked about her pop singer status and responded graciously, calling herself a one-hit wonder, then singing a bit of "They Don't Know About Us."  Streep and Baranski were quick to mention other Broadway musicals she's appeared in, clarifying for those who didn't know, that Ullman is a talented singer and actor with a long history in music and theater.
Christine Baranski, Meryl Streep and Tracey Ullman are long-time friends and have a sisterly affection for each other. The easiness and banter amongst them during the interview was what made it amazing and I'm happy to share two clips with you below.   They were obviously having a good time joking with each other.
Watch the trailer:
Connect with Into the Woods: Into the Woods Website on Facebook &  Twitter
INTO THE WOODS is rated PG and opens in theaters everywhere on December 25th!