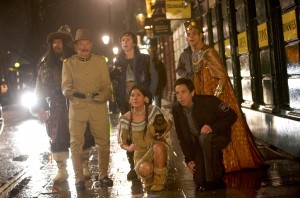 Night At the Museum opens Christmas Day and with all the choices for your entertainment dollar, this is a don't miss. Hollywood stars make this movie which has it all, just a little bit more because of the place in history it will have. The franchise has been around since 2006. We've grown to love Larry, the night watchman, Jedediah and Octavius, (Owen Wilson and Steve Coogan), Sacajawea (Mizuo Peck) and this even returns old favorites like Dick Van Dyke, whose role is to show he's can still really shake 'em down. Mickey Rooney (who died in 2014) and now add a bit of Ben Kingsley and a lot of Rebel Wilson (who steals every scene she's in as the bombshell blond) and allow Shawn Levy to shake it up one more time and you got a blockbuster.
Did I miss someone, Oh, yeah. The reason for giving this review starting with the stars rather than the story. It turns out this movie, as good as the story is, as good as the comedy and family bonding comes across, as good as the effects are, that makes us watch a monkey pretend to die, as good as every moment of this movie is, it will be remembered as the last film with Robin Williams. Not only that, but Teddy Roosevelt's final line is something to the effect of There will always be another sun rise tomorrow. Think about that.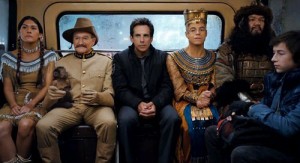 The story starts on the set of every Indiana Jones movie and the boy who discovered a lost tomb. Seventy-five years later he's dancing at an old age home. Dick Van Dyke proves he's still got the dance in those old legs. Owen Wilson's character, Jedediah, the miniature cowboy and Steve Coogan's Octavius, the miniature Roman Sentry, bond. Larry bonds with his son. Rami Malek's ahkmenrah finds his father, in London and having not seen each other since the expedition split the spoils, they bond. Ricky Gervais retires from the directorship of the museum, and finally sees what he's never believed before. We learn lessons of the importance of family and accepting friends. We learn that it is always hard to let go of our loved ones. After all of these hard times, there is always the next dance, the next day, the next party. We learn that in life we can do what we need to do, and each step of progress in our lives, is just a step to redefine next wonderful moment that will become a memory if not in our own minds then in the minds of those who we've touched. As And allowing us to move forward is a wonderful thing that allows us to redefine our lives, our goals and the memories we leave others with.
The comradarie, the fun, the love, it's all palpable. The quest to save the lives of every museum exhibit, is upon us. The plot weaves from comedy to adventure with the ease of watching family movies of our last vacation. Everything just fits in to tell one story tidbit, after the next. But then there is that one actor who just can't fit in. Rebel Wilson has already proven herself to be a standout. But in her ten or so scenes, each of which she just down and out steals, her smile, her accent, her ability to show lust while making us laugh at what we're all thinking just endears a new member of the NATM cast in our hearts and heads.
In the end the next generation takes over, but along the way, the lives of the characters in the museum, have been saved, and while the franchise might be dead, the character's lives have all been changed.
Shawn Levy, Ben Stiller, Owen Wilson and Robin Williams began and ended their journey in a better place than they had been. And having watched the trifecta of Museum movies, we are all the better for having watched them, grown with them, and loved them.