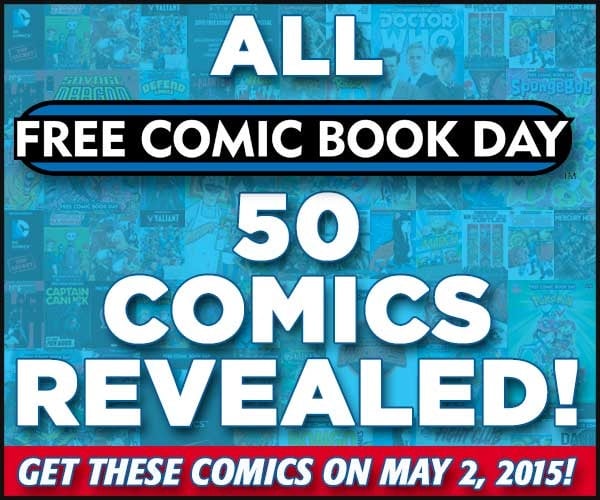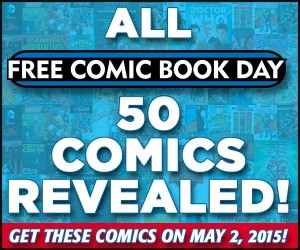 Yesterday, the Free Comic Book Day (FCBD) Selection Committee revealed the 50 free comic books that will be available during the comic book industry's most anticipated annual event, Free Comic Book Day, taking place Saturday, May 2nd  at participating comic book shops worldwide.
The 2015 event marks the fourteenth year Free Comic Book Day will be celebrated by new and devoted comic book, gaming, and pop-culture fans of all ages. FCBD was created to be an industry-wide outreach event to introduce the world of printed comics to a generation who have grown up with the characters in movies, cartoons, video games and TV shows, allowing fans discover characters' origins from the stories they discover at their local comic shop. In addition to receiving free comics, fans can also participate in each comic shop's additional activities, such as raffles and door prizes, meet-and-greets with professional comic creators, local artists and cosplayers and more, to make their FCBD experience unforgettable.
Comic book store retailers on the FCBD Selection Committee chose these 50 titles to provide fans with a wide range of stories to choose from. They ae being produced exclusively for FCBD by DC Comics, Marvel Comics, Dark Horse Comics, IDW Publishing, Image Comics and 36 other publishers. Titles for the FCBD 2015 comics include Marvel's Secret Wars, Fight Club written by Chuck Palahniuk, Transformers, Doctor Who, SpongeBob Squarepants, Teenage Mutant Ninja Turtles, The Tick, Street Fighter, Sonic the Hedgehog, Rabbids, and more.
"We are extremely excited about the quality and diversity of all 50 free comics that will provide comic book fans a great opportunity to discover original and revamped stories for free, which can open up a diverse world of comics to them as they enjoy these stories for the first time," said FCBD Spokesperson Deborah Moreland.  "The titles offered this year are great for adults and children, so there's something for everyone to enjoy. We are sure that fans and retailers will be pleased with the line-up and will look forward to this year's Free Comic Book Day as much as we do!"
Below is a list of all 50 comics that will be available on Free Comic Book Day 2015.
ARCHIE COMIC PUBLICATIONS| SONIC/MEGA MAN: "WORLDS UNITE"  FLIP-BOOK
ASPEN MLT INC. | WORLDS OF ASPEN 2015
AUTOMATIC PUBLISHING| HATTER M: LOVE OF WONDER #1
AVATAR| MERCURY HEAT DEBUT
BEGUILING BOOKS| COMIC FESTIVAL! 2015 #1
CAPSTONE| MARCH GRAND PRIX
CBLDF| DEFEND COMICS
CHAPTER HOUSE/CAPTAIN CANUCK| CAPTAIN CANUCK
COMIXTRIBE| AND THEN EMILY WAS GONE #0
DARK HORSE COMICS| AVATAR, PLANTS VS. ZOMBIES, BANDETTE
DC COMICS| TBA
DRAWN & QUARTERLY| SUPERMUTANT MAGIC ACADEMY/ STEP ASIDE, POPS!
FANTAGRAPHICS BOOKS INC.| HIP HOP FAMILY TREE THREE-IN-ONE FEATURING COSPLAYERS
GEMSTONE PUBLISHING| OVERSTREET'S COMIC BOOK MARKETPLACE
HERMES PRESS| THE PHANTOM FCBD SPECIAL
IDW PUBLISHING| TMNT: PRELUDE TO VENGANCE
IMAGE COMICS| TALES OF HONOR #0
KODANSHA| KODANSHA COMICS SAMPLER
LEGENDARY COMICS| LEGENDARY COMICS PREVIEW
LIQUID COMICS| GRANT MORRISON'S "STAN LEE'S SHAKRA THE INCREDIBLE"
MARVEL| AVENGERS #1
NEW ENGLAND COMICS| THE TICK
ONI PRESS| TERRIBLE LIZARD #1
PAPERCUTZ| RABBIDS
PAPERCUTZ/SUPER GENIUS| LADY JUSTICE #1
REBELLION| 2000AD SPECIAL\
RED 5 COMICS| BODIE TROLL AND FRIENDS
SCHOLASTIC INC. | GRAPHIX SPOTLIGHT: CLEOPATRA IN SPACE TARGET PRACTICE
TH3RD WORLD| THE STUFF OF LEGEND: A CALL TO ARMS PREVIEW
TOP SHELF PRODUCTIONS| THE MOTORCYCLE SAMURAI
UDON ENTERTAINMENT| STREET FIGHTER: SUPER COMBO SPECIAL
VALIANT| VALIANT 25TH ANNIVERSARY SPECIAL
VIZ MEDIA| SHONEN JUMP PRESENTS: JO JO'S BIZARE ADVENTURE/YU-GI-OH
ZENESCOPE| GRIMM FAIRY TALES PRESENTS: WONDERLAND-ONE SHOT
ZENESCOPE| JURASSIC STRIKE FORCE #5
For more information about Free Comic Book Day, please visit www.freecomicbookday.com. Fans will be able to find a participating comic shop near them in April 2015 using the FCBD store locator.   Also check for updates and enter giveaways on the FCBD Facebook page at www.facebook.com/freecomicbook and follow on Twitter at www.Twitter.com/freecomicbook.