The holiday season's upon us, and with all the toys and games out there, it can certainly be tricky to sort through all the products and pick out a good present. Let us help you figure it all out– check out our top picks for girls' gifts in 2014: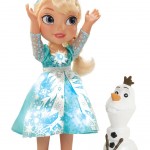 My First Disney Princess Frozen Snow Glow Elsa Singing Doll, $29.99
What little girl doesn't love Disney's Frozen? Watch Elsa's power flurry with Snow Glow Elsa. With a touch of her magical snowflake necklace, hear Elsa talk to her Frozen friends and watch the magic as her dress lights up in a flurry of lights. Raise her arm and watch her snowflake necklace light up while it plays the award winning song "Let it Go" and her dress magically lights up to the beat. Experience the movie again and again with Elsa as she sings from your favorite movie moments!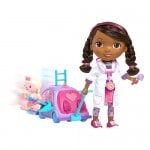 Disney Junior Doc McStuffins Walk n Talk DocMobile, $29.99
Based on the hit Disney Junior show Doc McStuffins, the imaginative Disney Jr. Doc McStuffins Walk n' Talk Doc Mobile helps you to encourage your child to help others. The DocMobile, which comes with Doc herself, features three play doctor's tools, including a thermometer, a stethoscope and an otoscope, for making a pretend diagnosis. When the siren is pressed, it lights up and Doc McStuffins begins to walk towards the emergency to help with Lambie at her side. Once your little one is on the scene, he or she can open the back of the mobile for space to examine and treat any sick stuffed toys Doc comes across. The Walk n' Talk Doc Mobile encourages your little helper to engage in creative play.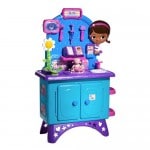 Doc McStuffins Deluxe Check-Up Center, $59.99
Another great toy from Disney Junior's Doc McStuffins— the Doc McStuffins Get Better Checkup Center has everything kids need to imagine they are healing toys and giving healthy checkups right along with Doc McStuffins! Doc's friend Lambie is included, and lights and sounds are activated when she is on the checkup table. Future doctors can use the electronic Big Book of Boo Boos to make a diagnosis, slide in play x-rays to activate lights and Lambie phrases, and move the leaf up and down to measure their patient's height. Kids can also use the portable scale to check their patient's weight and take the ouches away with bandage stickers from the dispenser on the clinic door. It's got everything your little girl needs to become her favorite toy and stuffed animal doctor– Doc McStuffins!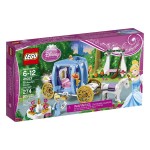 LEGO Disney Princess Cinderella's Dream Carriage (41053), $24.97
In this Lego Disney Princess set, it's the night of the grand ball at the castle! A pumpkin has been magically transformed into a carriage by Cinderella's fairy godmother who has left behind her magic wand. Open the door, unfold the steps and help Cinderella into the beautiful carriage. Be sure to remember the invitation! Watch the golden wheels turn as the white horse leads the carriage past the pretty fountain on the way to meet the Prince. Includes Cinderella mini-doll figure and a white horse. The Lego Disney Princess Cinderella's Dream Carriage is perfect for any little girl who loves to build and play with Disney princesses.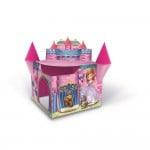 Playhut Sofia the First Princess Castle Tent, $29.00
Your young princesses will love this castle play tent from Playhut, based on another Disney Junior favorite– Sofia the First! Patented Twist 'N Fold Technology allows for instant set-up and easy fold-down storage. Made with durable, soft material, the Sofia the First Princess Castle is lightweight and portable for easy play anywhere. It's a great gift idea for children ages 3 and older.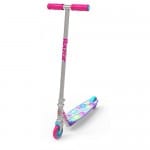 Razor Party Pop Kick Scooter, $49.49
Kids will love to scoot on Razor's all new light-up Party Brite Kick Scooter! The scooter features a frosted opal deck with multi-color pulsating light show– just step on the deck to activate the lights. Perfect for girls on the go, this exciting outdoor toy is a fantastic gift choice for this holiday season!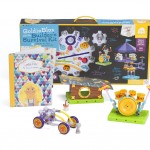 Goldie Blox and the Builder's Survival Kit, $59.99
GoldieBlox is a series of interactive books and construction toys starring Goldie, a curious girl with a love of engineering. Goldie's stories encourage girls to build, developing the spatial skills that are fundamental to engineering. As she goes on adventures with her friends, she comes across problems that she solves by building simple machines. While the story unfolds, girls get to build what Goldie builds- like Valentina's Drum Set, Nacho's New Dog House and a Tea Cup Ride that takes her friends for a whirling, twirling adventure! GoldieBlox will empower a generation of girls who are more confident, courageous and tech-savvy.With more than 190 pieces, GoldieBlox and the Builder's Survival Kit offers endless possibilities and hours of fun.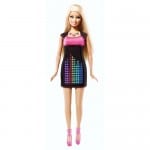 Barbie Digital Dress Doll, $14.99
The Barbie Digital Dress Doll lets your little girl customize her Barbie doll's fashion like never before! This innovative doll features a cool touchscreen, so girls can swipe through preset animations or create their own customized designs right on the front of her dress. Select a look and watch the designs react to music or the sound of your voice. It's easy and tons of fun– a great choice for this holiday season!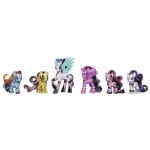 My Little Pony Friendship is Magic Ponymania Collection, $29.99
Your little girl can be a part of the Ponymania with this gorgeous collection of pony pals! The Princess Celestia figure is a royal pony and she'll bring your Rainbow Dash, Fluttershy, Rarity, Princess Twilight Sparkle and Pinkie Pie friends together to discover the magic of friendship! This set collects six favorite pony pals from My Little Pony: Friendship is Magic– including Princess Celestia herself– in exclusive Ponymania outfits! Grab it now for your favorite MLP fan!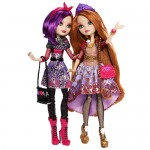 Ever After High Holly O'Hair and Poppy O'Hair, $24.99
The world's most spellbinding stories are getting turned on their crown at Ever After High, a high school for the teenage sons and daughters of famous fairytale legends. The twin daughters of Rapunzel, Holly O'Hair and Poppy O'Hair, have different views on destiny but share a history and a bond that can't be broken. And both sisters have a lock on fable-ous fashion! For just $24.99 for both of the twins, this combo pack is a steal! Complete your little girl's Ever After High collection– or start it off– with this "twin-some" duo!
Crayola Virtual Design Fashion Collection, $29.99
This holiday season, give the little girl in your life an unprecedented fashion designing experience. Only Crayola Virtual Design Pro can provide a full range of high quality colorful design tools and special software that brings your fashions to life on a virtual runway! Use the app (compatible with iOS and Android smartphones, tablets and iPod touch) to accessorize your model and customize your own fashion show. It's a great pick for little fashionistas age 6-12.