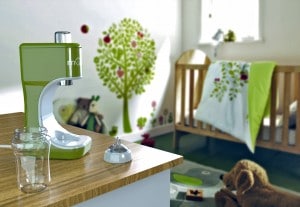 Who is sick and tired of the middle of the night feedings?  I know that was one of my biggest hates when the kids were young!
Miravan is set to revolutionize formula feeding and reduce the stress of middle of the night feedings with Moozi, an innovative new single-serving pod system that simplifies the bottle making process, creating the perfect temperature formula bottles in under a minute at the touch of one button.  It's a true all-in-one system that gives parents a stress-free, safe and easy solution to the current multi-step complicated formula feeding process. Prior to Moozi being available in retail and online stores in late 2015, the company has created a Kickstarter campaign to help fund the product,  which began earlier this month.  The preview link can be viewed now at: Moozi Kickstarter.
Before Moozi even hits retail shelves in late 2015, Miravan is offering potential backers an advance offer to purchase Moozi through their Kickstarter campaign at a discounted price of $125. And in the true spirit of the holidays for supporters who would like to partner with Miravan to help families in need, there is the opportunity to pledge $100 to donate a Moozi to an organization serving these families. The campaign launched November 3rd and will remain live for 30 days.
The idea for Moozi was conceived and developed by mompreneur Miriam Kutcher, a mother of two daughters now ages 8 and 10.  Looking back, she wished there was a one-step, simple solution that would warm and dispense the perfect temperature bottle simply by pressing a button.  It was years later that she decided to bring her idea to life and now she is ready to introduce Moozi.
"When my girls were infants, making a formula bottle was a time-consuming process that involved rushing down to the kitchen in the middle of the night to try and measure, warm and mix a bottle as quickly as possible. Listening to them cry while doing all of this was stressful. I wanted my focus and attention to be on them, not the prep work," says Miriam Kutcher, president and founder. "So I came up with the idea of Moozi and after three long yet gratifying years, I'm proud to bring this product to the market."
Safety is key with Moozi. Water sensors ensure there is water in the tank and that the water temperature is regulated at body temperature. The bottle sensor alerts parents if there isn't a bottle in position.  Plus Moozi's unique patent-pending dry release system keeps the formula and water separate until they mix in the bottle.  This reduces bacteria growth and keeps the system running smoothly.