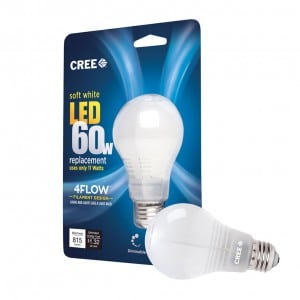 The end of Daylight Saving Time is just around the corner (don't forget to turn your clocks back this Sunday 11/2/14!) and with it comes shorter days, longer nights, and plenty of reasons to leave your lights on more often. With all that extra light, though, why not save on energy costs by switching to cheaper, more efficient light bulbs in your home? Cree LED Bulbs, available at Home Depot, are the perfect solution to your energy cost crisis.
But what
is
a
Cree
bulb anyway?
Cree
bulbs are "The Biggest Thing Since the Light Bulb," LED bulbs that look and light like a classic light bulb, but provide all of the savings, energy efficiency, and product longevity that comes with being LED. To do this,
Cree
pioneered three different innovations: 4Flow Filament Design, LED Filament Tower Technology, and Spectral Notching Technology.
Cree
's 4Flow Filament Design is to thank for the
Cree
Bulb's similarity to a classic incandescent bulb in appearance and light. It combines cross-flow ventilation and clever optical design to recreate incandescent bulbs' timeless appearance within a shatter-proof housing. It's durable and affordable!
Cree
LED Filament Tower Technology is designed to emulate the look and feel of an incandescent filament but provide all the benefits of LED technology, long life and efficiency. The design of the
Cree
LED Filament Tower provides a compact, and optically centered and balanced light source (like the tungsten filament in an incandescent bulb) to deliver the warm, all-around light you and your lamps and fixtures love. You can get cheaper, more durable and efficient LED light without having to sacrifice the warm lighting that's a staple of incandescents!
In addition to being up to 79% more efficient and lasting 25 times longer than a typical incandescent, the
Cree
TW Series LED bulb produces true and natural light with a Color Rendering Index (CRI) of 93. To make this possible,
Cree
developed a new way to bring TrueWhite™ light to LED bulbs.
Cree
Spectral Notching Technology takes advantage of Neodymium glass and other optical innovations to produce light that makes colors look like they should. See the difference in the food you eat, the clothes you wear and the appearance of your skin.
Cree
Bulbs are the perfect addition to your home– you'll be surprised to see how much you save by switching over to
Cree
LED! Try them out this winter and find out for yourself!
How to win a $70 prize pack of Cree Bulbs… Contest ends 11:59am EST. November 4th, 2014.
You must comment telling us what light in your house do you hate to change? please include some method for us to contact you in the comment (twitter or email)
You get 1 extra entry for following @DadaRocks on twitter –twitter.com/dadarocks
You get 1 extra entry for tweeting about this contest (you can do this daily). Must contain the following information: #DisneyOnIce @dadarocks –http://dad.am/1zRG7Q9 and you must also comment with the link to your twitter message.
Example: I want to win big box of @CreeBulb Thanks to @dadarocks – http://dad.am/1zRG7Q9 #CreateWithCree
You get 1 extra entry for becoming a Fan on facebook –facebook.com/dadarocks you must comment that you're a fan (and leave a little note on the wall)
You get 2 extra entry for becoming a Fan on facebook –facebook.com/CreeBulb you must comment that you're a fan (and leave a little note on the wall that you a fan because of DaDaRocks.com)
You will have 12 hours to reply before we pick another winner!
Disclosure: Cree partnered with DaDaRocks for a sponsored ambassadorship.  All opinions are my own.
Please note that for each entry you perform you must leave a comment below.