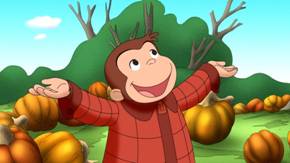 Want some cool Halloween fun to share with your little one today? You're invited to the spooky return of CURIOUS GEORGE: A Halloween Boo Fest— check out the special today on PBS KIDS!
It's George's first Halloween in the country, and Bill tells him and Allie about the "Legend of No Noggin" – a spooky tale about a hat-kicking scarecrow who haunts the countryside on Halloween. But is the legend real? George and Allie are determined to find out by taking a picture of No Noggin in hat-kicking action. But first, George needs to figure out what he's going to be for Halloween so he can win the costume contest at the town Boo Festival and give the prize to the Man with the Yellow Hat. Will George be able to put together the perfect costume and find out the truth about No Noggin? Only the curious will find out!
Happy Halloween everyone!