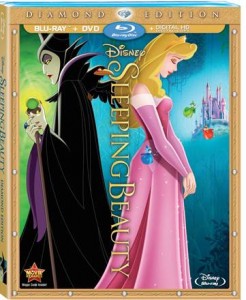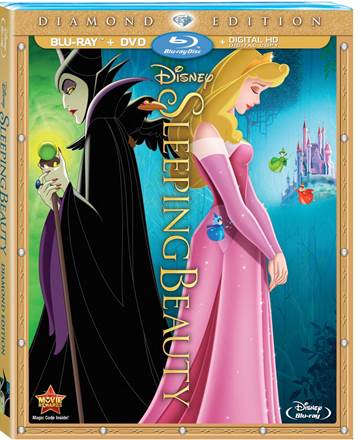 SLEEPING BEAUTY DIAMOND EDITION awakens on Blu-ray, DVD, Digital HD and Disney Movies Anywhere on Oct. 7.
Beauty, wonder and adventure spin together in a grand legend that transcends time as Maleficent, one of animation's most spectacular villains, sends the kingdom's beloved Princess Aurora into an enchanted sleep. In a majestic story that awakens all your senses, Good Fairies arm brave Prince Phillip to defeat a fearsome fire-breathing dragon and rescue Aurora. But success in battle may not be enough, for the only way to awaken the Princess is with True Love's kiss!
Finally releasing from the Disney Vault, Disney's ultimate princess fairytale classic "Sleeping Beauty" will be available for the first time on Diamond Edition Blu-ray, Digital HD and Disney Movies Anywhere on October 7, 2014. Experience all of the pageantry and power of this wondrous tale on Blu-ray – and for the first time on Digital HD – with incredible high definition picture, thrilling, soaring sound, and all-new Diamond Edition special features that make this a must-own for every family's classic collection!
Creating the ultimate at-home viewing experience, Disney's 2-Disc Diamond Edition Blu-ray Superset (Blu-ray + DVD + Digital Copy) contains digitally restored picture and sound, a digital copy of the film, and a variety of magical new bonus features, including "Once Upon A Parade," in which "Modern Family" star Sarah Hyland tells us the tale of Walt Disney World's new Festival Of Fantasy Parade, "Art of Evil: Generations Of Disney Villains," a legacy piece spotlighting Disney's favorite villain animator and Maleficent creator Marc Davis, and "@DisneyAnimation: Artists in Motion," in which Walt Disney Animation Visual Development artist Brittney Lee goes through the process of creating a three dimensional sculpture of Maleficent, completely out of paper.
Additional all-new bonus features include never-before-seen deleted scenes "The Fair" (with Deleted Character The Vulture,) "The Curse is Fulfilled" and "Arrival Of Maleficent," plus the Beauty-Oke sing-along to "Once Upon A Dream." The Blu-ray Superset also includes classic DVD bonus features and more!
Never Before Seen Deleted Scenes:
The Fair (With Deleted Character – The Vulture) – In this version of the story, the fairies do not take the Princess to live with them in the forest. Convinced that King Stefan's order to burn all the spinning wheels in the kingdom will not prevent Maleficent's curse, the good fairies put a magic circle around the castle and cast a spell: "No evil thing that walks or flies or creeps or crawls can ever pass these castle walls."
The Curse is Fulfilled – The three good fairies have just returned Aurora to the castle and give her a crown. They leave the room to give Aurora some time alone…but Maleficent pays her a visit.
Arrival Of Maleficent (Alternate Scene) – Maleficent arrives uninvited to the christening of the Princess Aurora.
Sleeping Beauty awakens on Diamond Edition Blu-ray, Digital HD and Disney Movies Anywhere onOctober 7th! To celebrate, A few blogger friends of mine got together an are giving away an incredible 'Sleeping' prize package that's perfect for your princess' bedroom. This special promotion was created by Killerbdesigns.com, Mythoughtsideasandramblings.com, Dadarocks.com, Formulamom.com and Redlotusmama.com and is valued at over $220!
The Grand Prize (1) giveaway includes:
A copy of Sleeping Beauty: Diamond Edition
o   Disney's 2-Disc Diamond Edition Blu-ray Superset (Blu-ray + DVD + Digital Copy)
Baroque Pink Glass Night Light
o   A handmade item that emits a beautiful and soothing light
Princess Bedtime Stories (Storybook Collection)
o   A storybook collection filled with stories featuring the Disney princesses
Absolute Ruffle Princess Pink Canopy
o   Sleep like a princess under this princess canopy
Colorful Butterfly Night Lights
o   Changes to seven different colors!
o   Sparkling sequin-trim mask
Disney 4 Piece Toddler Bedding Set, Princess Dress to Shine
o   Bedazzled princesses in blue, lavender, pink, yellow and white
o   Now your princess can sit on this polyfoam pink throne!
Disney Princess Beauty Kit with Make-Up
o   A fun makeup and beauty kit for your princess
Runner-Up Prize (5):
A copy of Sleeping Beauty: Diamond Edition
o   Disney's 2-Disc Diamond Edition Blu-ray Superset (Blu-ray + DVD + Digital Copy)
a Rafflecopter giveaway

Contest will run from Oct. 2 1:00 p.m. PDT to Oct. 7 11:59 p.m. PDT

Clinical psychologist Dr. Michael Breus, one  of the  nation's  top  sleep  experts, has  some advice to  offer  parents!
Tips On Helping Children Sleep
Be consistent. Going to bed and waking up at the same time (even on weekends) will help your children keep Maleficent's evil henchmen out of their dreams.
Use Flora's gift of beauty.Help your children finish up whatever they're doing, clean up their toys and make the room neat, comfortable and ready for sleep.
Use Fauna's gift of song. While everyone's getting ready for bed, sing a few favorite soothing songs while they bathe, brush their teeth and put on pajamas.
Use Merryweather's gift of true love's kiss. Dim the lights, turn on a night-light and read a book. If kids still have trouble quieting their busy brains, try the "relaxation game." And then give your little ones that loving kiss good night.
Embrace Maleficent's color of darkness. The color black is best for sleep, though most children like a little light at night. Keep in mind that some night-lights (LEDs, for example) contain "blue light" and that can actually keep a child awake by preventing the brain's production of melatonin, which starts the engine for sleep. So make sure your child's night-light is one that filters out blue light.
Follow Sleeping Beauty's name, Aurora. She is so named because she fills people's lives with sunshine. When children wake up in the morning, stop by a sun-filled window or take them outside for 15 minutes of brightness. Sun exposure helps reset their internal biological clocks each morning. Parents can also leave the window shades open so the child can wake with the morning light.
Dr. Breus notes, "For tips two through four, I recommend 'The Power Down Half-Hour Technique,' which I created for children, with 10 minutes spent on each of the activities mentioned. The consistent routine helps calm them down and unconsciously signals the brain to get ready for sleep. Roughhousing and other similar 'fun games' often initiated by parents who haven't seen their children all day usually result in poor sleep."
Finally, here are three rules for napping for infants and toddlers:
Set a specific nap time, or make it three to four hours after they last woke up.
Have a consistent pre-nap routine (it will not be as long as the pre-bedtime routine).
Let children soothe themselves to sleep, even when napping.
For more sleeping tips and information from Dr. Breus, visit www.TheSleepDoctor.com