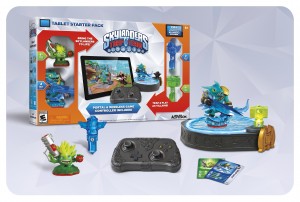 This Sunday, October 5, the wait is over! Skylanders Trap Team will be available on a multitude of familiar platforms– consoles like the Xbox One, Playstation 4, and Wii U. But this iteration of the popular franchise also marks an important distinction for the series: it's the first time that the full Skylanders console experience will also be available on iPad, Kindle Fire, and Android tablets.
The new Skylanders Trap Team Tablet Starter Pack (shown at left) includes a new Bluetooth Traptanium Portal that doubles as a docking stand for the tablet of your choice, as well as two traps, two Skylanders, and a Bluetooth wireless controller to play the game with. While the controller is included with the set, if your child is more comfortable using the tablet's touch controls, don't worry– touch controls will still be available in this version as an alternative to using the controller!
Skylanders Trap Team allows players to utilize Trap Crystals to capture and play as Skylands' most dangerous villains, as the Trap Masters and other Skylanders work together to thwart the latest scheme of the evil Kaos. The game will be released on Sunday October 5 on Android, Fire OS, iOS, Nintendo 3DS, Playstation 3, Playstation 4, WiiU, Xbox 360, and Xbox One.
Portal Masters everywhere can get into the Skylanders Trap Team spirit by taking advantage of exclusive Skylanders products at retailers nationwide:
Get Legendary at Toys"R"Us – Toys"R"Us stores in North America and online at Toysrus.com will be the only places fans will find the limited edition Legendary Series of Skylanders toys at launch. The Legendary Series features alternative versions of new Trap Master characters and packs, such as Jawbreaker, Déjà Vu and the Nightmare Express Adventure Pack, all of which feature in-game stat boosts.
Meet the Minis at Walmart – Skylanders fans can visit participating Walmart stores or go to Walmart.com to participate in the 'Meet the Minis' program to unlock special content featuring the fully playable and upgradeable Minis, including Gill Runt, Stealth Elf, Weeruptor, Pet Vac and Small Fry via the official Skylanders Collection Vault™ app.  Walmart will also be the only place fans can find the Skylanders Minis Buddy Pack, featuring Tidal Wave Gill Grunt and Gill Runt.
NITRO Trap Masters at Target – U.S. Target stores nationwide and Target.com will once again be the only place where fans can get their hands on the Skylanders NITRO series of toys, which features the powerful Trap Master NITRO Krypt King.
Portals for Punch Pop Fizz at GameStop – During the first week of launch, fans that bring in a Portal of Power® from any Skylanders game can trade it in to receive a free Punch Pop Fizz character, a bright red version of the fan-favorite Skylander.
Three Skylanders for Two at Best Buy – Players that purchase any twoSkylanders Trap Team game products at Best Buy will receive a free Volcanic Eruptor character, who's unique appearance is visible in-game. This promotion is available only at Best Buy.