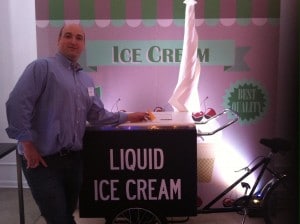 If you avoid cold foods (like me – thanks AskAGreatDad for the photo), if you avoid hot foods, or if you feel that your teeth are overly sensitive and you didn't know what to do, this product is for you! If your tooth brushing ritual is affected by sensitive teeth, then you need this as well, and fast!
Sensitive teeth toothpaste often contains potassium nitrate which helps to diffuse tubules and calm nerves. For many with more sensitive teeth, this is not enough. For those who want to know the secret of how the Crest Sensi-Stop Strips work, it is the Oxalate technology! It has been found that Oxalate crystals immediately seal tubule openings. With the tubule openings closed, the nerve endings are not exposed, the sensitivity issue is relieved!
Nearly 60% of folks complain of sensitive teeth, and only 4 out of 10 of those are satisfied with their current sensitivity solution. That is over one third of the whole population that need help!
The Crest Sensi-Stop Strips are applied directly to your teeth. They are small, flexible, and transparent. In 10 minutes, 1 strip can give you relief, and after one use, can last up to 30 days!
Crest Sensi-Stop Strips use the same ingredient as some professional procedures to seal dentinal tubules. What is that you ask? They are small passage ways that lead to your tooth nerve endings.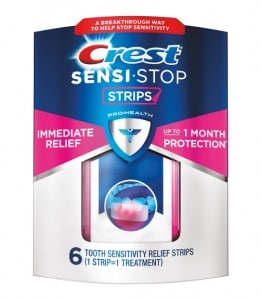 Benefits of Crest Sensi-Stop Strips with Oxalate Technology:
1. The strip stays on your teeth longer than a sensitivity toothpaste would.
2. Sensitivity strips are applied directly to the affected area thereby providing targeted delivery of the key ingredient.
3. Because the strip is placed so close to the affected area, it can close the tubules within 10 minuites. A sensiticity toothpaste may never get that close to the exact area.
4. Strips build a lasting barrier in 10 minutes that last for a month.
5. Fast acting, targeted delivery and lasting relief: that is the goal, that is what the Crest Sensi-Stop Strips provide!
This amazing new item is available in September, 2014. I have had a pack to try and it is wonderful. You can also go to crest.com right now to learn more and pre-order Crest Sensi-Stop Strips if tooth sensitivity is an issue for you or for someone else in the family!
Disclosure Notice: I was compensated by One2One Network for participating in the Crest launch event but all thoughts are my own.