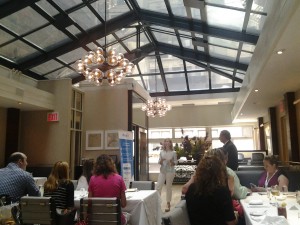 As part of our CE Week coverage, we were treated to a private lunch event at BLT Fish. The lunch included special presentations of the leading products and services from Phillips, LG, and TripIt, as well as one-on-one time with representatives from those companies and our host, Techlicious.
Phillips' presentation focused mainly on their audio devices. The company showed off their line of water-resistant sports headphones (which can easily even be washed without damage to the product), two different types of portable handheld speaker, and headphones of various styles and price points for the whole family to enjoy. Phillips also demonstrated one of their LED HDTVs, showcasing their unique "Pixel Plus HD" feature. Pixel Plus HD, available on several Phillips HDTVs, creates bright, sharp images by generating 6.2 million pixels from any image source. Coupled with Perfect Natural Motion, this makes for an excellent HDTV experience.
Televisions were front and center for LG, whose HDTV lines were a major CE Week 2014 standout. Particularly interesting was their 55" Class 1080p Smart 3D OLED TV, which boasts 3D capabilities, built-in wi-fi, LG's 4-color pixel technology, and the first "infinite" contrast ratio. The OLED TV also includes a stylish wall mount that resembles a frame (perfect for viewing art in the tv's "gallery mode") and also doubles as a speaker to keep the television itself nice and thin.
Finally, TripIt showcased the trip planning services that serve as the basis for the site. TripIt, billed as "the world's easiest travel organizing app," was founded in October 2006, and has been making people's lives easier ever since. It offers travelers the ability to get an itinerary just by forwarding an e-mail, and access their plans anywhere, anytime, and on any device.
Overall, the lunch was a great way to get up close and personal with these brands, and get some good, personally-tailored information about them and their products.