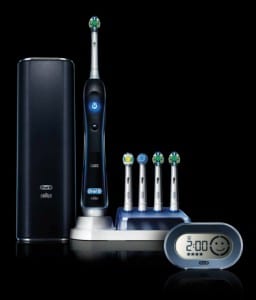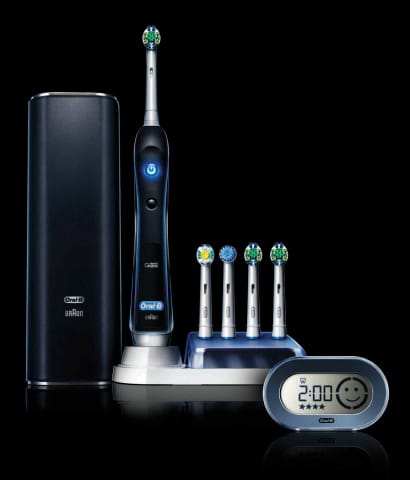 This is the most advanced toothbrush I've ever owned… To me Oral-B took a ton of technology from NASA and packed it into this little brush… The rechargeable batteries have lasted days (which is great if you want to travel with it).  There are different types of brush heads for different types of cleaning, if you want to focus on gum care or if you have sensitive teeth… There's a head for that.  If you want a deep clean or whitening there's a head for that.
There is an LCD display called the Oral Care Control it gives you feedback on your brushing time, your brushing areas and even which mode you're using.
Revisiting the long lasting nature of the battery because it's important to note this great set comes with its own travel case.  For those that have traveled with an electric brush and something bumps into the button you get to the hotel with a dead electric toothbrush.
While this is my brush for now – I'm pretty sure my wife loves it and wants one for herself.  It does a really grab job giving me a clean teeth feeling and I think thats because its not only pulsates but its oscillates and rotates at the same time (they call that 3D action).
The Oral-B 7000 Black just came out and is the top toothbrush in their lineup… But I've got the hookup for you a $7 coupon!
Also if you havent seen this year's Oral-B TV commercial it's awesome! The Power of Dad spot is honest, real, not condescending and portrays life quite honestly. This is the second year of the Father's Day program that Oral B has partnered with March of Dimes also. They've partnered with Football's First Family too, New York Giant's Quarterback Eli Manning, his father Archie and his daughter Eva to celebrate fatherhoods unforgettable moments.
This was sponsored by Oral-B for the #PowerofDad Father's Day promotion and was compensated for my involvement but my thoughts are all my own.