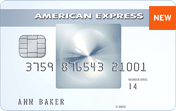 If you're like me, then you know all too well how everyday purchases can add up. Groceries, gas, MetroCards… seemingly small transactions come together over time, and before you know it, they've piled up into a pretty substantial bill. Parenting is not without its costs–a fact that's especially on my mind with Harper having just turned one. It wasn't too long ago that we had to baby-proof the apartment in anticipation of the arrival of our little girl and her first steps, and between outlet protectors, corner covers and the like, we ended up spending quite a bit more than expected fixing the place up.
Thankfully, American Express just launched the Amex EveryDay, a no-fee card that rewards you with points for everyday purchases like these. With double points on groceries, and extra rewards for using the card often, it's perfect for getting something back from those simple buys that you don't even think about. It's a must-have for dads who like to save, and get rewarded not just for the big buys, but for the everyday moments as well. And who doesn't love that? What #EveryDayMoments could you use an Amex EveryDay card for? Share them on Twitter with the hashtag #EveryDayMoments on Father's Day Weekend (June 12-13) for a chance to win a $4,000 worth of Home Depot gift cards!
Disclaimer: I was compensated by Amex EveryDay, the new credit card from American Express that celebrates #EveryDayMoments and everyday purchases. All thoughts and opinions are my own.