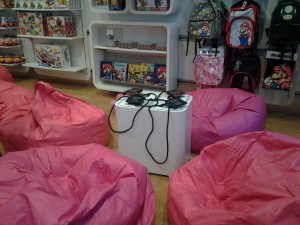 I was recently treated to a preview of three brand new games at Nintendo World New York– Kirby Triple Deluxe, Mario Golf: World Tour, and Tomodachi Life— and they looked like excellent additions to the 3DS catalog!
Kirby Triple Deluxe, the character's first appearance on the 3DS, transports Kirby to the land of Floralia, where he faces tons of unique new enemies and challenges. To deal with these adversarial forces, Kirby uses new copy abilities like Beetle, Bell, Archer, and Circus, and his brand new Hypernova ability. "Going Hypernova" allows Kirby to inhale much more than usual, even enabling him to suck up parts of the environment like trees, terrain, and more!
Mario Golf: World Tour, the sixth game in the Mario Golf franchise, also marks a first by being the first 3DS entry in the series. As always, Mario and his friends (and enemies!) make the sport even more fun with the addition of themed courses, items (a la MarioKart), and coins to enhance the gameplay. World Tour incorporates control elements from the previous games, while also adding a new way to aim your perfect shot. By using the gyroscopic motion sensors in the 3DS or 2DS, players can turn themselves like their in-game character to line up a hole-in-one like never before!
Tomodachi Life breaks new ground for Nintendo, as it will be the first Tomodachi game released outside of Japan. The game revolves around the kooky interactions that occur between the Miis that the player uploads to Tomodachi Life. These Miis then live on the game's Chin Island, and go about their everyday lives with hilarious results. The Miis can become friends, rivals, and enemies, fall in love, get married, and even have little baby Miis!
We're sure looking forward to playing these three great games for the Nintendo 3DS!
Kirby: Triple Deluxe and Mario Golf: World Tour are available now. Tomodachi Life hits stores on June 6.