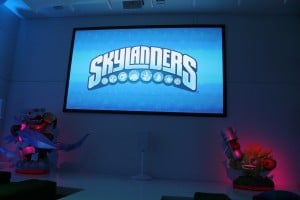 Last night, at an event spearheaded by Activision CEO Eric Hirshberg, the gaming company announced the next game in the popular Skylanders series. Titled Skylanders: Trap Team, the game allows players to utilize a new class of Skylanders called Trap Masters to thwart Kaos's latest plan to take over the Skylands.
Central to the new game is a fresh mechanic that lets players "trap" certain enemies with the aid of the redesigned portal and another new addition to the series, trap crystals. Created from the "traptanium" that flew to earth when Kaos blew up Skylands' most infamous prison, the trap crystals can be inserted into a specific groove on the portal; doing so enables players to capture specific enemy characters once they have been defeated. Using the trap crystals, players can access the villains caught within them, turn these enemies to their side, and then play as such favorites as the Chompy Mage (who first appeared in Skylanders: Giants), Chill Bill, and yes, even archvillain Kaos himself.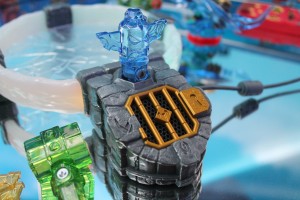 Discussing the development of this new feature, Hirshberg stated that the idea came about as an extension of the groundbreaking and innovative design that has been a hallmark of the Skylanders license since the brand's inception in 2011. "Previously we'd brought toys to life by letting what happened in the physical world impact the digital world," he said, "and now we get to bring life into the toys by letting what happens in the digital world affect the physical world."
Also on scene at the event was Richard Barry, EVP and Chief Merchandising Officer of Toys "R" Us, who confirmed that the retail chain would be continuing its partnership with Skylanders. Barry announced that we will be seeing new Legendary figures at Toys "R" Us in conjunction with Trap Team, as well as other new exclusive Skylanders merchandise. He concluded by stating that the game, which hits shelves on October 5th, is now available for pre-order at Toys "R" Us, both in stores and online at ToysRUs.com.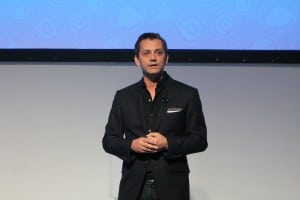 As a final note, Eric Hirshberg said that working with Skylanders has given his team the opportunity to "make kids say 'wow!' for a living," and I can certainly say that Skylanders: Trap Team is sure to make kids of all ages (including some adults!) say "wow!" when it releases this October.
Skylanders: Trap Team is now available for pre-order on all major video game consoles.