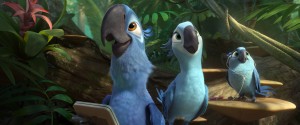 Rio 2, the follow-up to 2011's Rio, continues the tale of Blu and Jewel (Jesse Eisenberg and Anne Hathaway, respectively), believed to be the last two blue Spix's macaws. As we learn quickly in Rio 2, however, they're far from alone— the film centers not only on Blu and Jewel adjusting to family life with three children of their own, but also on the discovery that there is a whole flock of blue Spix's macaws in the wild. The pair (And their kids) travel to the Amazon to help their human companions Tulio and Linda (Rodrigo Santoro and Leslie Mann) to find the flock. But another surprise awaits them when they get there— the other macaws are Jewel's flock!
As Jewel introduces Blu to her family and friends, it becomes clear that he's going to have to try to fit in with the way of life in the jungle quickly if he wants to keep up with Jewel's childhood friend Roberto (Bruno Mars) and win the respect of her father (Andy Garcia.) On top of that, the gang also faces the threat of industrial loggers who are trying to illegally deforest the jungle, and the return of old foe Nigel (Jemaine Clement), who's out to get Blu and his family for thwarting his scheme and taking his ability to fly. With the deck certainly stacked against them, how will Blu, Jewel, and their family and friends make it out of this one? You'll have to go see Rio 2 to find out!
Packed with laughs, music, and excitement, Rio 2 is a treat for the whole family— a great time at the movies you definitely won't want to miss!
Be sure to check out Rio 2 in theaters April 11!

or let the kids watch this and see if they want to see the movie?
RIO 2 – in theaters April 11