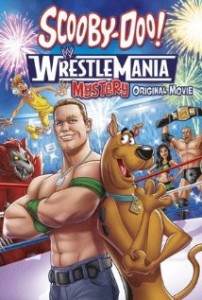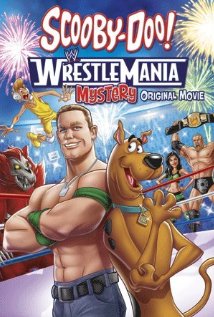 Scooby-Doo: Wrestlemania Mystery follows Scooby-Doo, Shaggy, and the rest of Mystery, Inc. to WWE city after Shaggy and Scooby win tickets to Wrestlemania. But when the friends arrive there, they realize that WWE City is being plagued by mysterious attacks from a ghostly bear that threatens to bring an end to Wrestlemania and the WWE itself! Scooby and the gang team up with a host of WWE Superstars like John Cena, Sin Cara, AJ Lee, and more to get to the bottom of this and save Wrestlemania—but will they be able to solve the mystery in time? Or will the ghost bear stop Wrestlemania and put an end to the WWE's legacy? Find out in Scooby-Doo: Wrestlemania Mystery!
This past Saturday, I had the opportunity to attend the premiere of Scooby-Doo: Wrestlemania Mystery, and it was excellent! Many of the wrestlers that appeared in the film were there (like Kane, The Miz, and Triple H), and Scooby-Doo himself even made an appearance! The movie itself was a lot of fun, and definitely worth seeing for fans of Scooby-Doo and WWE alike—it's packed with laughs and thrills in traditional Scooby-Doo fashion.
Scooby-Doo: Wrestlemania Mystery hits shelves today!
Plus we were invited to attend WWE RAW this past monday night – got to meet some of the awesome WWE All-Stars along with one very special guest!