TWO FAMILIES FIND HEALTH SUCCESS, LOSING A TOTAL OF 135 POUNDS AND RESULTING IN A 4-YEAR-OLD WHO DEMANDS HIS BROCCOLI!
 Two Colorado moms say portion control and balanced nutrition are just part of the solution to help everyone reach weight loss goals in 2014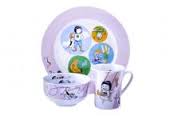 When Grace Stean, a flight attendant and mom was diagnosed with severe hypertension, she knew she had to make some lifestyle changes. Not only did she want to manage her condition through diet and exercise, it also made her turn her attention to the health of her growing son, 4-year-old Luke. She worried he would become a childhood obesity statistic, given that the Centers for Disease Control has seen a doubling in the past 3 decades.
Nearby in Longmont, Colorado, her friend Sheila Kemper Dietrich and family were also worried as well about losing weight and had been for years. That's why Sheila sat down and invented Kidliga and Livliga, portion control dishware, With an advisory board including a physician and certified nutritionist, Kemper Dietrich created a tool adults, parents and children can use to make permanent, healthy habits easy for lifestyle, weight loss, weight management and balanced nutrition. And it's needed. More than a third of Americans (37.5%) are classified as obese while two-thirds are now overweight.
Using her own creation, Sheila, her husband and daughter have lost a total of 115 pounds and are still working toward their goals. Grace Stean has lost 20 pounds using Livliga and is now a yoga aficionado.  Grace uses Kidliga dishes with Luke and teaches him with its accompanying storybook, Sammie & Sax in the Land of Quinoa: The Search for a Balanced Meal. Learning healthy habits at such a young age is having an amazing result, with Luke regularly requesting broccoli at home and in restaurants, developing a love of fish and quinoa and less picky eating.
Grace says, "He already ignores any type of fast food or French fries, which is terrific! My hope is with the Kidliga influence that when he's on his own and grown up, he'll continue making healthy food choices and won't be swayed by peers he sees eating junk food."
Both women say their different approach can help everyone trying to improve their health starting now through 2014. Here are some tips and information they want to share with you:
Drop the guilt and acknowledge that as a country, we are being manipulated into a psychology of overeating. Plate sizes have grown by 51% since 1900. Furthermore, do you know plate colors affect how much you eat? The Journal of Consumer Research shows the size and color of bowls and plates influence how much we eat. Study results showed that on average, changing the color of the plate so it highly contrasted the food reduced how much volunteers served themselves by 21%.
Take control of managing your food environment and understand the relationship of plated food to eye to brain. The same amount of food on a portion control plate will look much larger to you than the same food on a larger plate. Consider this as you plate or use a portion control plate such as Livliga as an easy solution. Livliga's unique design on the plate also makes the food look plentiful. Take a moment to really look at the plated meal.
Acknowledge meal times with focus and intent. Sit down and breathe. Don't eat on the run or eat quickly. Don't graze. If we're grazing, our bodies never gear up to properly metabolize food.
Don't go it alone in trying to figure out your calories burned vs. calories consumed ratios. Using the SuperTracker on the the USDA MyPlate in conjunction with portion control dishware created using those same guidelines is key. MyPlate is the U.S. government's nutrition guide for what a person should consume on a daily basis for a balanced diet.
Following these simple tips and using Kidliga and Livliga can help maintain healthy habits starting now. With these easy everyday tools extend your strong course to optimum wellness and your healthier future!
ABOUT KIDLIGA:
Kidliga is a right-sized dishware set that offers visual cues to guide kids to serve themselves just-right portions on their plates at every meal. The accompanying children's book, Sammie & Sax in the Land of Quinoa: The Search for a Balanced Meal, is the winner of a 2013 Bronze Moonbeam Award for best health book! It's a fun, engaging, well-designed teaching tool, providing recipes, a teaching guide, and subtle lessons about a balanced meal.
The book tells the story of two curious kids, Sammie and Sax, and their dog Rhubarb as they search for a balanced meal. The dishware features these characters along with specifically sized icons to represent the appropriate amount for each food group as designated by the USDA/MyPlate.gov. In addition to the dishware and the children's book, the Livliga website offers activities and recipes that can be downloaded to engage the whole family in learning about healthy eating in an adventurous and interactive way.
Kidliga is available now at the discounted price of $49.95. Sets may be ordered at www.LivligaHome.com.
ABOUT LIVLIGA:  Livliga (www.LivligaHome.com) was founded in March of 2011. The company was conceived out of the personal need for a solution to our supersized world surrounding eating.  Sheila Kemper Dietrich assembled a team of experts with a combined 70 years of experience to create a suite of affordable tableware that will contribute to solving the obesity epidemic. Livliga is available as well online.
To purchase Livliga and Kidliga, visit its online store at http://www.LivligaHome.com.  "Like" Livliga on Facebook at facebook.com/LivligaHome, follow on Twitter @LivligaHome and visit our blog at LivligaHome.blogspot.com.  Watch our videos on YouTube.com/LivligaHome.