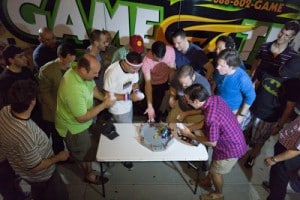 If someone told you to test toys – you'd be jumping at the chance too – sadly this isnt the movie Big and double sad face I'm not doing this full time but every once in a while I get invited to test out some toys… I was invited by Battroborg to do just that – try out their new battling wireless robots (keep reading for the review and a giveaway) but even better was to make a match out of it against another daddy blogger Drew Bennett of BenSpark.com.  Thanks to the Dads of the New York City Dads Group we made a night out of with the Game Truck coming by and packing it full of dads for a much needed dads night out!
Battroborg are wireless motion controlled robots that have sensors that detect "damage" and then shut down once a winner does enough damage.  The motion remotes are design one for each hand and as you move them you control the robot (its pretty awesome!)
There are a ton of different robots and each robot has its own special punching mode. Personally I found these to be a lot of fun although Drew did beat me in the end – it was an epic fight and we did go best of 3 matches and he won 2-1.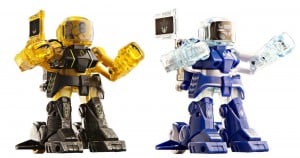 This is a great gift for the kids and dads this holiday season…. if you can get your hands on a set.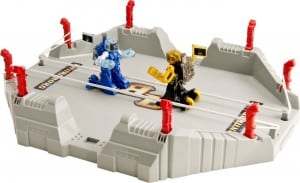 How to win it… Contest ends 11:59pm EST. Aug 16th, 2013.
Leave a comment why you want to win a Battroborg set and please include some method for us to contact you in the comment (twitter or email).
You get 1 extra entry for tweeting about this contest (you can do this daily). Must contain the following information: @battroborg [email protected]http://dad.am/1eGhGb7
Example: I want to win an [email protected] fighting robot set from @dadarocks http://dad.am/1eGhGb7 #giveaway
You get 1 extra entry for following @dadarocks on twitter – www.twitter.com/DaDaRocks You must comment that you're a follower.
You get 1 extra entry for following @battroborg on twitter – www.Twitter.com/battroborg

You get 1 extra entry for becoming our FAN on facebook – www.facebook.com/DaDaRocks You must comment that you're a fan.
You get 1 extra entry for liking this page on facebook (like button at the top of the post NOTE: you must be signed into facebook for it to work!)
You get 2 extra entries for suggesting DaDa Rocks on facebook to your friends (and have them leave a note saying you sent them)
You get 2 extra entry for writing about this giveaway on your blog (with a link back to https://dadarocks.com) you must also comment with the link to your post.
You get 1 extra entry for G+ this page on plus.google.com (click on the little G+ icon below) You must comment that you've G+ it.
You will have 24 hours to reply before we pick another winner!
Disclaimer: Battroborg supplied the prize for this contest and it is limited to the USA.