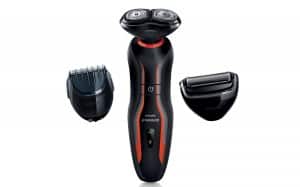 Back to school time for me has usually turned into a new electric razor… I wont bore you with the story about why I use electric razors but I have used them since I started to need to shave… so every year heading back to school or back to college – it was new razor time…. I've been brand loyal to Philips Norelco for years… to be they just work the best and seem to get a shave that is right for me.
The older I get the more often I've grown out my beards which is sometimes an issue and I've been forced to use multiple devices or have a harsh shave with the sideburn straighten. This year Philips Norelco introduced the Click & Style… Its not just a electric razor for your face but one that will do it all… a simple change out of the shaving head you have a beard trimmer… another simple change and you have a body hair trimmer for all that manscaping you need done.
The price and the design of this razor is directly inline with those who are leaving for college where that manscaping really should be one of those "chats" all dads should have with their sons cause really a little clean up down there is cool but remember the simple fact we're men 😉 Philips Norelco has a website that even pokes fun at that too.
Here's their take on it…
Philips Norelco Click & Style
For the young guy who's just coming into his own with a "real world" grooming routine, the NEW Philips Norelco Click & Style is a complete all-in-one system equipped with three attachments that are easy to click on and off for shaving, styling and grooming. This tool provides the versatility and convenience to achieve any style, giving guys the confidence to work their magic – whether it's a clean shave for the office or groomed stubble for the weekend.
Features:
Click-on, click-off technology to easily switch between shaving, facial styling, or

bodygrooming

with a single product
Two-headed shaver with

ComfortCut

blades glide smoothly over the skin for an extremely close, yet comfortable shave without nicks or cuts
Beard styler with 5 lengths for the perfect stubble or a neatly trimmed beard
Skin-friendly Bodygroom shaver designed for a close and comfortable shave or trim on all areas below the neck
100% waterproof technology so guys can trim, style and shave where they want, wet or dry
Additional Benefits
Fully charges in 1 hour for 40 minutes of cordless use, but also has a 10-minute quick charge for 10 minutes of cordless use, so it's always ready for a shave
Battery light indicator displays power charge level
How to win it… Contest ends 11:59pm EST. Aug 24th, 2013.
Leave a comment why you want to win a brand new Philips Norelco Click & Shave and please include some method for us to contact you in the comment (twitter or email).
You get 1 extra entry for tweeting about this contest (you can do this daily). Must contain the following information: @shaveexperts [email protected] – http://dad.am/19pbpko and you must also comment with the link to your tweet.
Example: I want to win a @shaveexperts #ClickandShave electric razor from @dadarocks – http://dad.am/19pbpko #giveaway
You get 1 extra entry for following @dadarocks on twitter – www.twitter.com/DaDaRocks You must comment that you're a follower.
You get 1 extra entry for following @shaveexperts on twitter – www.Twitter.com/shaveexperts

You get 1 extra entry for becoming our FAN on facebook – www.facebook.com/DaDaRocks You must comment that you're a fan.
You get 1 extra entry for liking this page on facebook (like button at the top of the post NOTE: you must be signed into facebook for it to work!)
You get 2 extra entries for suggesting DaDa Rocks on facebook to your friends (and have them leave a note saying you sent them)
You get 2 extra entry for writing about this giveaway on your blog (with a link back to https://dadarocks.com) you must also comment with the link to your post.
You get 1 extra entry for G+ this page on plus.google.com (click on the little G+ icon below) You must comment that you've G+ it.
You will have 24 hours to reply before we pick another winner!
Disclaimer: shaveexperts supplied the prize for this contest and it is limited to the USA.