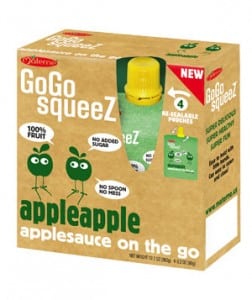 If you have toddlers you may have heard of GoGo squeeZ – I certainly have… It's the all natural pouches of Apple Sauces and there is a ton of flavor options. There are currently 3 lines Applesauce on the Go, Organic Squeezable Fruit, and Fast Fruit: Fruit on the Go!
My son loves the Applesauce on the Go AppleApple I mean loves it! And there is some good reason why he loves it as much as I love that he's been eating this as a snack instead of other junk. It's 100% natural, it's gluten and wheat free, vegan friendly, a BPA free pouch, no high fructose corn syrup, and no added colors of flavors. As a bonus its kosher too.
A few weeks ago I was invited to an event with Jerry O'Connell to talk about the charity programs including one called Go Playfully. Its always nice to hear about successful companies giving back but was different this isnt on of those giant companies – this is a small guy with a giant heart type company. Their Playful partner, Life is good spreads the power of optimism and helps kids in need by donating 10 percent of its net profits to The Life is good Kids Foundation. In 2013, GoGo squeeZ is contributing $100,000 to support the Life is good Festival, a two-day celebration of music and optimism featuring nationally-known musical talent, hands-on games and interactive arts activities. The Festival will raise more than $1 million dollars through fundraising and partnerships. The Festival will have Jack Johnson headlining along with an appearance of Yo Gabba Gabba. You can enter to win a trip to the festival right on GoGo squeeZ facebook page.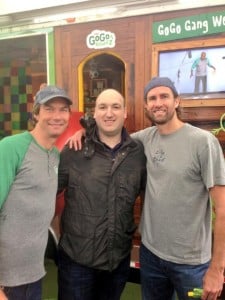 The GoGo squeeZ mobile playground is returning to New York on July 28th 2013 (Sunday) in Union Square for Pogopalooza, the Annual World Championships of Xpogo (extreme pogo).
Join the SqueeZ Squad for a fun-filled day on the playground; which includes a slide, rock climbing wall and both indoor and outdoor play areas where games range from Giant Jenga and Twister to bean bag tosses. It will be set up in Union Square from 12:30pm – 5:00pm with a special PoGo giveaway at 1:00pm (I'd recommend a 12:30pm arrival to participate in the raffle).
GoGo squeeZ feels it is really important for both children and adults to incorporate playfulness into their daily lives and are bringing this special playground to New York to fuel playful moments in a metropolitan area… And what's more metropolitan than NYC?!
Samples of GoGo squeeZ's yummy and wholesome applesauce pouches will available at the event for those that like to try before they buy.
GoGo squeeZ has these great prize packs that come with capes and as you can see below well Marc loves running around the house wearing his Go Playfully cape.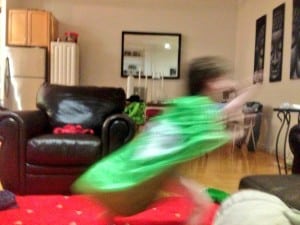 How to win it… Contest ends 11:59pm EST. Aug 4th, 2013.
Leave a comment why you want to win a GoGo squeeZ prize pack and please include some method for us to contact you in the comment (twitter or email).
You get 1 extra entry for tweeting about this contest (you can do this daily). Must contain the following information: @GoGosqueeZ #gogoplayfully @dadarocks – http://dad.am/1bu4nvs  and you must also comment with the link to your tweet.
Example: I want to win a @GoGosqueeZ #gogoplayfully prize pack from @dadarocks – http://dad.am/1bu4nvs #giveaway
You get 1 extra entry for following @dadarocks on twitter – www.twitter.com/DaDaRocks You must comment that you're a follower.
You get 1 extra entry for following @GoGosqueeZ on twitter – www.Twitter.com/GoGosqueeZ

You get 1 extra entry for becoming our FAN on facebook – www.facebook.com/DaDaRocks You must comment that you're a fan.
You get 1 extra entry for liking this page on facebook (like button at the top of the post NOTE: you must be signed into facebook for it to work!)
You get 2 extra entries for suggesting DaDa Rocks on facebook to your friends (and have them leave a note saying you sent them)
You get 2 extra entry for writing about this giveaway on your blog (with a link back to https://dadarocks.com) you must also comment with the link to your post.
You get 1 extra entry for G+ this page on plus.google.com (click on the little G+ icon below) You must comment that you've G+ it.
You will have 24 hours to reply before we pick another winner!
Disclaimer: GoGo squeeZ supplied the prize for this contest and it is limited to the USA.