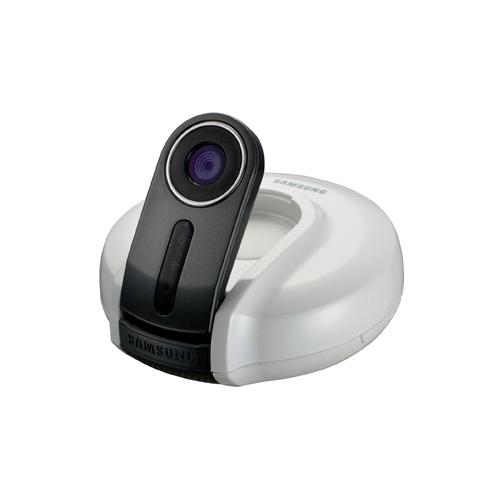 One thing that sucks is having a new baby and having to go into work everyday… such is the life for sooo many (and it was for a couple of weeks of Harper's life). One simple solution cause you cant really put a new born on the phone to check in is this amazing Samsung SmartCam [Amazon]. Its a WiFi connected Video Monitor – I leave out the baby part cause it could be used for almost anything you want to keep an eye on or an ear on since it transmit sound too.
It took all of 5 minutes to get working (yes it really that simple) but for a regular folk (non techie) maybe it'll take you 10minutes. It uses Samsung's hosted solution to communicate to the video device.
This does require an internet connection in the setup mode I have it running in (I dont even know if it would work if you didnt have an internet connect – like if you only wanted to run it locally).  There is a free app you download for your iPhone or iPad.  The image looks great with settings to reduce bandwidth.
I set this up on my old iPhone 4 (using wifi only) and it worked great in my apartment.  The video looked great streaming over AT&T Wireless network on my iPhone 5.
If I have any issue is that even though it has the remember the password boxes in the app – it still requires usernames/passwords/camera password (so you can run multiple cameras) with no centralized login ability (would love to sync it to my facebook or twitter account so I dont need to remember another username/password).
Samsung SNH-1010N SmartCam WiFi Video Baby Monitor
One Push Setup in 30 seconds
Built-in Mic and Speaker for Two way talk
Built-in IR LED Lamps for Night vision
Monitor on PC, MAC, and

smartphones

Audio and Motion detection and notification
Free and easy recording on YouTube
Quick Setup and Monitor from Anywhere/Anytime
The SNH-1010N ties convenience and security together to bring you an innovative concept for monitoring your baby's safety. Instead of limiting you to the range of the parent unit, the SNH-1010N connects to your route with a push of a button. This give you the freedom to monitor your child using your smartphone, tablet, laptop, and/or pc. With extremely quick and easy set-up, a wide variety of choices you can use to monitor, and the freedom to monitor from anywhere and at anytime,
Store and Share Made So Easy
With the SNH-1010N, sharing videos of your baby is made simple. Video clips are stored privately on a personal YouTube account. Share it with your friends and family or make it publc to share it with everyone.
How to win it… Contest ends 11:59pm EST. June 14th, 2013.
Leave a comment why you want to win this prize and please include some method for us to contact you in the comment (twitter or email).
You get 1 extra entry for tweeting about this contest (you can do this daily). Must contain the following information: #BabyMonitor @dadarocks – http://dad.am/14DQEZT #Giveaway and you must also comment with the link to your tweet.
Example: I want to win a Samsung Wifi Video #BabyMonitor from @dadarocks what a great #FathersDay gift – http://dad.am/14DQEZT #giveaway
You get 1 extra entry for following @dadarocks on twitter – www.twitter.com/DaDaRocks You must comment that you're a follower.
You get 1 extra entry for becoming our FAN on facebook – www.facebook.com/DaDaRocks You must comment that you're a fan.
You get 1 extra entry for liking this page on facebook (like button at the top of the post NOTE: you must be signed into facebook for it to work!) You must comment that you've liked it.
You get 1 extra entry for G+ this page on plus.google.com (click on the little G+ icon below) You must comment that you've G+ it.
You will have 24 hours to reply before we pick another winner!
Disclaimer: Samsung supplied the prize for this contest and it is limited to the USA.